International Internet Magazine. Baltic States news & analytics
Tuesday, 02.06.2020, 13:56
Upturn in registered marriages in Latvia, birth numbers keep declining
Sigita Šulca Social Statistics Methodology Section, 18.04.2019.

Print version
Provisional data compiled by the Central Statistical Bureau of Latvia (CSB) show that over the past three years the number of registered marriages has risen slightly. In 2018, 13.4 thousand marriages were registered, which is 200 marriages more than in 2017 when the increase recorded over the year constituted 148 marriages.
Similar trend was registered also this year: during the three months of 2019, 1 754 marriages were registered, and, compared to the corresponding period a year ago, the number has risen by 238. As the age at marriage increases (males at first marriage are aged 32 and females 30), currently marriages are concluded between people born in the second half of '80s, when birth rates were two times higher than now.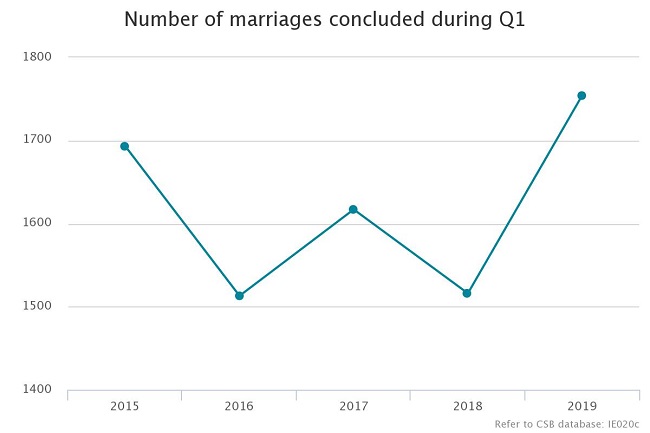 Birth number keeps declining since 2016. In 2017, 20.8 thousand children were born, which is 1.1 thousand children fewer than in 2016. Provisional data of 2018 show that the number of births will not reach 20 thousand and birth number may account for 1.2 thousand births fewer than a year ago. The number of newborn registered over the first three months of 2019 (4 330 children) is almost 300 children fewer than that recorded in the same period of 2018.
Death number registered over the last two years is stable – 28.8 thousand. Over the first three months of this year, 7 739 deaths were registered, which is 265 deaths fewer than in the 1st quarter of the previous year.
Natural increase in Latvia is still negative. During the first three months of 2019, as the number of deaths exceeded the number of births, Latvia population declined by 3 469 people (over the corresponding period of 2018 – by 3 392).