International Internet Magazine. Baltic States news & analytics
Tuesday, 19.02.2019, 15:13
Latvia records EU's third steepest decrease in population in 2017
BC, Riga, 11.07.2018.

Print version
Latvia recorded the third steepest decrease in population across the European Union last year, according to Eurostat report released today.
According to Eurostat, Latvia's population decreased 8.1 per 1,000 residents in 2017. Lithuania reported the biggest decrease - 13.8 per 1,000 residents, followed by Croatia - 11.8 per 1,000 residents.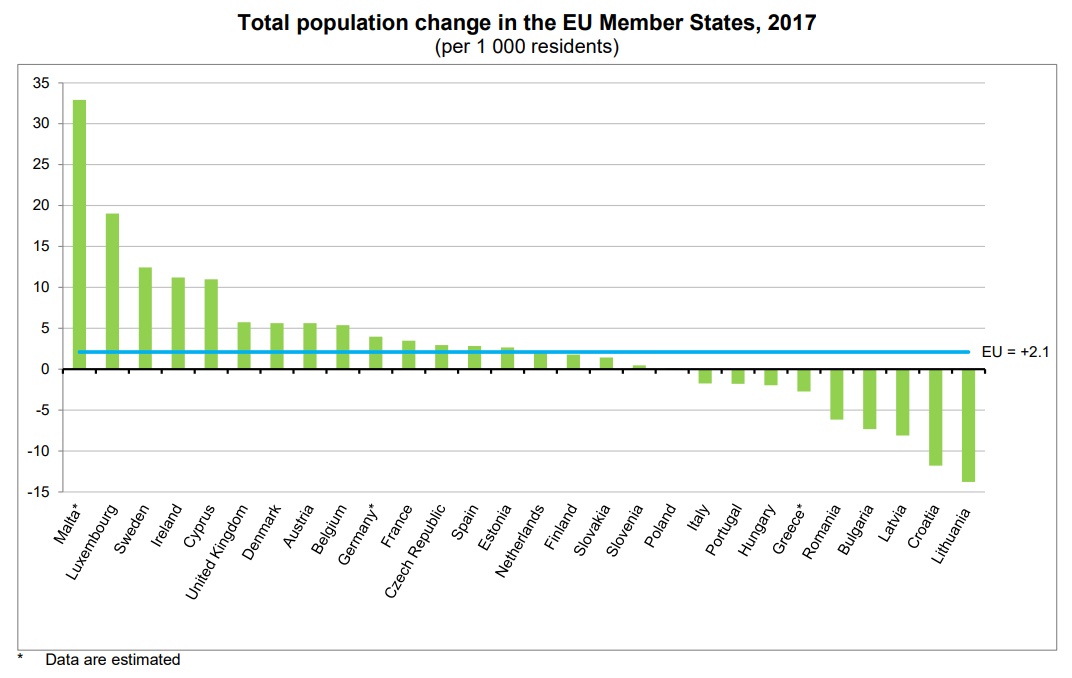 The other EU countries to report population declines were Bulgaria (-7.3 per 1,000 residents), Romania (-6.2), Greece (-2.7), Hungary (-2), Portugal (-1.8), and Italy (-1.7).
Nine EU member countries recorded population decreases last year, while population of nineteen EU members increased.
Malta recorded the steepest increase in population (+32.7 per 1,000 residents), followed by Luxembourg (+19), Sweden (+12.4), Ireland (+11.2), and Cyprus (+11).
Estonia's population increased by 2.7 per 1,000 residents last year. The average figure for the EU was 2.1.
On January 1, the population of the EU was estimated at 512.6 million, compared with 511.5 million on January 1, 2017.
During 2017, more deaths than births were recorded in the EU, meaning that the population change was therefore due to net migration.