International Internet Magazine. Baltic States news & analytics
Wednesday, 08.02.2023, 14:47
Rescue remedy for Europe: social solidarity
Eugene Eteris, RSU's European Faculty, LLD, associate professor, 26.03.2009.

Print version
It is always interesting to listen to peoples' opinion; even more so when an opinion comes from an outstanding person. The person is a well-known indeed – no doubt about that; it is Jorma Ollila, Nokia's CEO for about 15 years and now its chairman. He expresses his opinion about crisis in Europe and the ways out of it. This is particularly important for the Baltic States' governments being in search for a "silver bullet".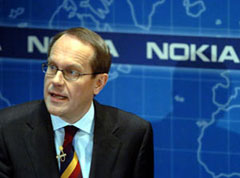 Jorma Ollila.
During last couple of months European leaders made various projections as to the ways out of the present crisis. While blaming the existing economic system for all its inherent sins, most of the politicians have been towards stricter regulatory rules – generally initiated and implemented by the state. This could jeopardize the traditional libertarian state's functions and allocating to it some more strict paternalistic roles. However not all are of that opinion, in particular those from the business circles have something else in mind. Among them is Jorma Ollila, the person whose opinion more than often counts among European leaders.
Representing Finnish and European capitalism
As a result of his Nokia's chief executive work for 15 years, the company has turned from a once struggling for survival industrial conglomerate into a global mobile phone powerhouse with more than one-third of global mobile phone market. Now he has become the Nokia's chairman and at the same time is chairing the board at Royal Dutch Shell, Europe's biggest oil group. British teenagers voted him the most creative thinker of modern times in a survey conducted five years ago by the UK's Design Council.
A deeply analytical manager, writes R. Milne in Financial Times, 23.02.09, about Mr. Ollila and his views on Europe's future competitiveness, chances of a depression and the benefits of Nordic capitalism.
Despite chairing two of Europe's largest companies, he sits in the executive chair of European Roundtable of Industrialists, where Mr. Jorma Ollila represents about 50 most dynamic business leaders and continent's leading industrialists in the European region.
Mr. Ollila demonstrates his pragmatism defending Shell's recent decision to stop investing in wind and solar energy and focus generally on biofuels as its approach to climate change measures.
Jorma Ollila – short CV
He's 58 and grew up in Western Finland. Finished college studies I the UK, Atlantic College in Wales. Acquired Finnish degrees in engineering and political science, as well as a degree in economics from the London School of Economics. For several years worked in Citibank before joining Nokia, when he very soon took over as the company's CEO (1992). He became Nokia's chairman recently, as well as the first outsider to chair Royal Dutch Shell's board, Europe's biggest oil group. Besides, he is a head of the European Roundtable of Industrialists, a grouping of the continent's leading 50 or so chief executives and chairmen. The group represents about 1,6 bn turnover in Europe with 4.5 mln workers.
Contemporary crisis and the ways out
Mr Ollila contends, according to R. Milne, that Europe has performed well in the crisis so far but that the key tests are still to come. Without a common approach to matters like next month's G-20 summit in London, he fears for Europe's competitiveness. "There is a real danger that the dynamism, which tends to be a feature in the US, can kick-start a new growth period earlier and stronger than what we are able to do in Europe."
Mr Ollila is somehow positive about how Europe and the European Central Bank have handled the crisis so far. But the situation remains so critical that his list of worries is daunting: a serious possibility of depression; social unrest spreading from those European Union countries where it already exists; and the risk that protectionism causes damage to both globalisation and the EU's internal market. "Globalisation is actually causing a lot of insecurity among the population. Unless we can alleviate that insecurity we might have very negative impacts on policy-making," he says.
He urges European leaders to forget about regulations and try to save the world from "a serious deep and long depression", the chances of which he says are real but still less than 50%.
Mr. Ollila also warns of the possibility of social unrest spreading from the smaller countries of the European Union. "In itself it is a worrying thing. But it is our responsibility to build a system with a certain stability for people."
Probably it's the question of "capitalism adaptation", as we do not presently have another viable system to govern countries' economy. Quite notable that J.M. Keynes remarked already in 1926(!) that "capitalism, wisely governed, can probably be made more efficient for attaining economic ends that any alternative yet in sight". After more that 80 years we are facing the same sort of issues; how to manage wisely capitalism and how to save it for our needs.
Social aspects in a Nordic model
Mr. Ollila has long had the focus on the social aspects of business. In his native company, Mr Ollila has been most of all "a people manager", e.g. although Nokia was in trouble he still found time to set out values on how the group should behave in treating its people and dealing with internal conflicts.
The concern for what he calls "the human role" above skills and strategy comes across when explaining the Nordic approach to business (while criticising some companies' sole focus on shareholder value). "The [current] crisis will lead to a rethink in the corporate world. It is not just about short-term, mid-term or long-term profitability but it is also about certain values and how you deal with stakeholders."
Values are not the only "Nordic thing" according to Mr. Ollila; he argues that the Nordic way of capitalism – being open to globalisation but protecting people from its negative aspects and providing everyone a good, egalitarian education – can make a "real answer" needed today. "We need to think a lot about social solidarity," he argues.
He also commends the response of the Nordic region and companies such as Nokia in their last severe downturn at the beginning of the 1990s, recalling that politicians clubbed together, there was no protectionism and companies restructured deeply as they had no other choice.
Model for other countries
In the regular FT's Monday Interview's section, Richard Milner interviewed Mr. Ollila calling him a "champion of Nordic capitalism" (FT, 23 March, 2009, p.12). That raises an interesting issue of the most perspective economic models in Europe. Among them the Scandinavian social democracy model (to which the Finnish one is definitely belongs) probably has been most successful.
The world should consider adopting the Nordic approach to capitalism and learn from the region's response to its financial and economic crisis in the 1990s in the attempt to get out of the crisis. Jorma Ollila advocates the Nordic style of capitalism which is characterized by openness to globalisation balanced by strong government programmes to protect people from its excesses and an egalitarian education system (In Richard Milne's comments on Nordic model is 'future of capitalism' – Financial Times, March 22, 2009).
He said Nordic politicians in the 1990s showed "a lot of wisdom" and did not resort to protectionism while taking risky decisions. Companies, including Nokia, restructured heavily and made themselves highly competitive, said Mr. Ollila.
He expressed hopes that policymakers today would follow a similar path. "It would be very much on my wish list for Europe," said Mr. Ollila. "You don't look at how good you are yourself but you look at the world as a whole."
If politicians failed to resist protectionism, there was a serious chance that the world could slide into economic depression, he argued.
Government measures to solve the crisis had had little impact on the real economy as the situation had not improved since the end of last year. One of the biggest concerns was the potential damage to globalisation and the European Union's internal market. Mr. Ollila said Nordic countries had learnt to share the risk of globalisation with the general public and show "social solidarity" with people affected by it: "As we have now seen, it is a risky proposition being open up to globalisation".
The Baltic States definitely need a model to emulate; the sooner the better. Thus, Latvian new government led by V. Dombrovskis seems to be quite desperate and during first couple of weeks in power did not even dear to mention a specific Latvian way out of crisis.