International Internet Magazine. Baltic States news & analytics
Tuesday, 26.03.2019, 14:59
Rimsevics: new government of Latvia should be formed within a week
Nina Kolyako, BC, Riga, 23.02.2009.

Print version
During the current times of economic trouble, Latvia's national economy cannot be left unsupervised, and a new government should be formed within a week, the president of the Bank of Latvia Ilmars Rimsevics believes.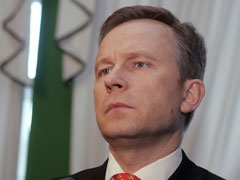 Ilmars Rimsevics.
''It is important for the next government to carry out the European Commission and the International Monetary Fund's support program in full,'' Rimsevis told LETA.
As reported, on February 20, Prime Minister Ivars Godmanis (Latvia's First Party/Latvia's Way) stepped down.
LETA also reported, the core of the next government could be made up of the People's Party and opposition party New Era, the head of the People's Party's group at Saeima Maris Kucinskis told LETA.
Kucinskis pointed out that recent discussions between the parties has shown that they can work together.
On the other hand, New Era's Chairperson Solvita Aboltina admitted that it is possible that both parties might work together, however, it is too early to say whether they will form a bloc together.
Aboltina pointed out that it is important for parties to come to some agreement on how this newly formed government will work until the emergency elections. At the same time, New Era believes that the best prime minister would be a non-partisan candidate.
Kucinskis pointed out that the Union of Greens and Farmers could be the third party which could be part of the next government.
According to unofficial information, Society for Different Politics, Harmony Center and possibily Civic Union are not intending to join the newly formed government.
On Monday, February 23, intensive talks will take place between the president and political parties on the formation of the next government.