International Internet Magazine. Baltic States news & analytics
Wednesday, 29.01.2020, 08:31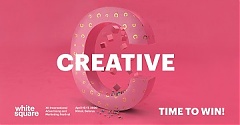 22.01.2020
Time is constantly challenging. Information war in the pursuit of consumer attention in all communication channels is now more intense than ever putting brand new questions and tasks on advertisers and marketers' agenda. What should brands do to communicate creatively and be effective. Which lifehacks and tools will work efficiently today and tomorrow. Most successful communications demonstrate their relevance in time. They are not being late. They are not in a hurry. They are right in time. And they win. International creative communications industry enters the time to win.
05.12.2019
TechChill is one of the most awaited events of the year in the Baltic startup ecosystem and this year the conference will be held on February 20-21 in Riga, Latvia. This year's focus is the Big Shift that includes changes prompted by rapid developments in Greentech, Blockchain, and 5G technologies. The conference's first announced speakers include world-famous brands like Cloud9, Interstellar Labs, Rotten Tomatoes and more.
28.11.2019
Practical action must follow to start the Baltic-Nordic cross-border integration for the launch of 5G services, Paula Lehtomaki, Secretary General of the Nordic Council of Ministers, said at the Baltic Sea Region 5G Ecosystem Forum on Thursday, referred LETA.
27.11.2019
Lithuania highly visible on the global Fintech map also becomes the 17 + 1 financial technology coordination centre. This was formally confirmed on Wednesday at the 17 + 1 High Level Fintech Forum for the first time taking place in Vilnius and bringing together the representatives from the ministries of finance and central banks of China and 17 Central and Eastern European countries (CEECs).
26.11.2019
Startup conference TechChill opens applications for pitch competition Fifty Founders Battle. Early-stage startups are encouraged to apply to compete for international investor attention, the main prize of EUR 10 000 as well as an opportunity to get fast-tracked to Startup World Cup 2020 in San Francisco, the largest startup competition in the world.
26.11.2019
The Baltic Sea Region consisting of 9 countries and 150 million inhabitants are poised to stake a claim for European 5G leadership at this year's 5G Techritory Forum – the 2nd annual Baltic Sea Region 5G Ecosystem.
25.11.2019
Among other things, topical issues of bank trade finance of international transactions were discussed.
22.11.2019
From 28 to 30 November, the largest trade fair for mechanical engineering, metalworking, automation, electronics, electrical engineering, manufacturing materials, tools and new technologies in the Baltics "Tech Industry 2019" will bring together equipment suppliers from across the world to showcase the latest industrial equipment, tools and technologies.
15.11.2019
A pre-auction exhibition of paintings, graphics, applied art and antique works has opened in the exhibition hall of Rietumu Bank.
13.11.2019
The office becomes an important tool to attract employees and is now not just the work premises, but a place for socializing and entertainment. Developers in the Baltic States will also have to take this into account, if they want to continue to successfully operate in this business, warned an experienced representative of the industry, Eastnine CEO Ķestutis Sasnausks, on the real estate forum Baltic Real Estate Leaders (BREL) held in Riga.
13.11.2019
The jury selected 22 best packaging design solutions in nine categories at the fifth annual NAPA Baltic Awards, presented by the Lithuanian Graphic Design Association (LGDA). Lithuanian designers and agencies took home the majority of the awards, with Estonian designers winning three awards and one award going to Latvia.