International Internet Magazine. Baltic States news & analytics
Monday, 26.08.2019, 03:57
Ronis: Lithuania to continue its blockade toward Liepaja Port
Alla Petrova, BC, Riga, 13.06.2012.

Print version
It seems that Lithuania will continue its blockade toward the Liepaja Port, hindering efficient and rational cargo transportation, points out Latvian Transport Minister Aivis Ronis.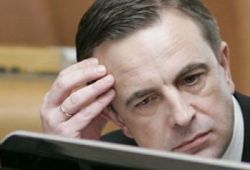 Aivis Ronis.
Ronis emphasizes that this also refers to supplying fuel to Latvia and Estonia from the Mazeikiai oil refinery, writes LETA.
Commenting Lithuanian President Dalia Grybauskaite's visit to Latvia, Ronis admits that it did not solve any Latvian-Lithuanian transport cooperation issues.
Infrastructure development is a geopolitical choice and Lithuania's stance does not indicate about its interest in Baltic cooperation, emphasizes the minister.
As reported, the renewal of the rail connection between the Lithuanian town of Mazeikiai and the Latvian port city of Liepaja (southwestern Latvia) must be beneficial for both Lithuanian and Latvian companies, visiting Lithuanian President Dalia Grybauskaite said during a joint press conference with Latvian President Andris Berzins yesterday.
''The Lithuanian side is not putting any political pressure on anyone. This is a commercial dispute between two companies. How the companies decide, that is how it will be,'' the Lithuanian president said.
LETA also reported, during a meeting with Lithuanian Foreign Minister Audronius Azubalis in May, Latvian Foreign Minister Edgars Rinkevics (Reform Party) accentuated the importance of resuming rail traffic from Mazeikiai to Liepaja. Rinkevics also welcomed the proposal by the Lithuanian foreign minister to establish a joint working group in transport matters and emphasized that the competent ministries should cooperate on this matter as efficiently as possible.
In 2008, the rail line between Mazeikiai and Liepaja was unexpectedly closed by the Lithuanian side due to a dispute between oil company Orlen Lietuva and the Lithuanian national rail company. Thus, the owner of Orlen Lietuva, Polish company PKN Orlen, has been forced to use a longer and more expensive export route to Riga Port.
Comments from the JSC Lithuanian railways
Latvian press has been presented with information on the obstacles for freight transportation by rail from Lithuania. The report misinforms the society as if the rail section between Mažeikiai and Liepaja is necessary for freight transportation was suddenly closed due to disagreements between JSC Lithuanian Railways and JSC Orlen Lietuva in 2008.
JSC Lithuanian railways informs, that the traffic on Mažeikiai-Priekulė-Liepoja section has been closed since 1995. At that time all shares of JSC Mažeikių nafta belonged to the State of the Republic of Lithuania. Polish company "PKN Orlean" acquired shares of JSC Mažeikių nafta (JSC ORLEAN Lietuva since 2009) in 2006. Therefore, the report's statement "rail section between Mažeikiai and Liepaja used for freight transportation was suddenly closed in 2008 due to disagreements between JSC Lithuanian Railways and JSC Orlen Lietuva is false.
According to the information of the report "the closure of Mažeikiai – Liepoja section restricts the freight transportation by rail between Lithuania and Latvia" is deceptive too. Two operating railway sections (Šiauliai-Joniškis-Jelgava ir Rokiškis-Daugpilis) connect Lithuania and Latvia and 4.2 mln. tones only of freight was carried on them last year. Lines throughout was exploited only by 17% and 10% respectively. The main directions of JSC "Lithuanian Railways" freight streams are Belarus and Kaliningrad District. Lithuanian railways has only two railway connections to Latvia same as with Belarus and Kaliningrad. Using the latter lines 26.5 mln. and 13 mln. tones of freight was transported in 2011 respectively.