International Internet Magazine. Baltic States news & analytics
Monday, 28.05.2018, 12:54
Flick: talks continue between airBaltic and Finncomm over share acquisition
Alla Petrova, BC, Riga, 29.07.2010.

Print version
The management of Latvian national airline airBaltic is still involved in talks with the shareholders of Finnish airline Finncomm regarding a possible share acquisition, airBaltic chief Bertolt Flick told reporters yesterday.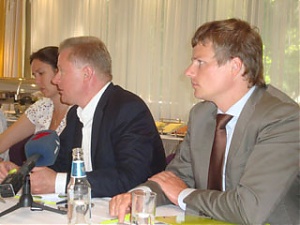 Bertolt Flick and Janis Vangs at the press conference in Riga, 28.07.2010.
The head of airBaltic noted that the current cooperation partner of Finncomm is Finnair, which claimed four years ago that airBaltic was not one of its competitors.
However, Flick pointed out that airBaltic and Finnair had now become competitors, claiming that the latter company was in a complete panic over the Latvian airline's talks with Finncomm. The airBaltic chief noted that he did not see any problems in cooperating with Finnair even if the Latvian company acquired Finncomm, adding that a court decision had prohibited any sale of shares until the middle of August.
Flick admitted that in the struggle for Finncomm shares, Finnair was the company with the greater resources and influence within Finnish society and politics. Flick indicated, however, that the matter was not of "life and death" importance, as airBaltic was capable of fulfilling its strategic goals in Finland even without the acquisition of Finncomm, although this would take longer.
The airBaltic chief explained that airBaltic had begun flying to smaller airports in Scandinavia and Finland in an effort to attract transit passengers, with ten such routes now opened. A four-times increase expected this year in passengers travelling through Finnish airports, with client numbers expected to reach around 500,000 in this area.
According to Flick, the lower costs and prices of airBaltic meant that Finncomm now saw the Latvian airline as a more promising future cooperation partner than Finnair. At present, Finncomm mainly offers internal flights within Finland, and does not possess great experience in the international market.