International Internet Magazine. Baltic States news & analytics
Wednesday, 20.02.2019, 03:26
Estonia urges EU to create customs-free Baltic Sea zone
Juhan Tere, BC, Tallinn, 22.06.2010.

Print version
European Union members on the Baltic Sea should drop customs controls among themselves to create a trade-boosting maritime zone, Estonian Foreign Minister Urmas Paet said on Monday.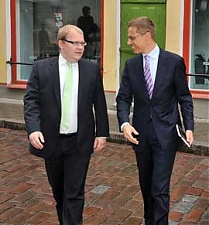 Urmas Paet and Alexander Stubb. Tallinn, 21.06.2010.
"EU states located around the Baltic Sea should have an internal market to abolish time-wasting customs procedures and promote trade and cooperation in the Baltic Sea region," Paet told reporters after meeting visiting Finnish counterpart Alexander Stubb.
Besides Estonia and Finland, six other members of the 27-nation EU lie on the Baltic: Latvia, Lithuania, Poland, Germany, Denmark and Sweden, informs LETA/AFP.
While most land controls have ended within the EU, the situation is more complex for maritime trade.
"We still have custom requirements for maritime traffic on many routes in the Baltic Sea even when ships travel from one EU port to another," Estonian foreign ministry spokeswoman Kersti Luha told AFP.
"If a ship sails from Estonia to Finland there are no custom procedures required because the ship only passes through an economic zone in the Gulf of Finland," Luha explained.
"But if the same ship with the same cargo travels from Estonia to a port in Sweden, it crosses international waters on the Baltic and therefore has to waste time with custom procedures in Sweden," she added.
Paet said the goal was to change the rules so that EU-to-EU trade would be treated the same whether or not a vessel crossed international waters.
As reported, Estonian president Toomas Hendrik Ilves met on Monday the minister of foreign affairs of Finland Alexander Stubb.
Stubb had arrived to Tallinn for a working visit.
During the meeting, the Estonian head of State and the Finnish minister focussed on the future of the Baltic Sea Strategy. Other issues discussed included Estonia's possible accession to the European Union's single currency and the problems in the Middle Eastern peace process.