International Internet Magazine. Baltic States news & analytics
Friday, 18.09.2020, 16:31
Recent announcements have caused certain concerns among port's international partners - Freeport of Riga CEO
BC, Riga, 12.12.2019.

Print version
Recent announcements about the government's plan to take over the ports of Riga and Ventspils have caused certain concerns among the Freeport of Riga's international partners, the port's CEO Ansis Zeltins said in an interview to Latvian Television referred LETA.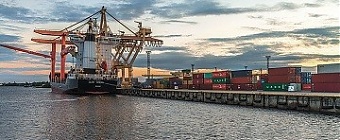 "What I find puzzling and worrisome is that in the announcements that have been made in recent days the Freeport of Riga is associated with the situation in Ventspils Port and the Magnitsky Act, with which, I believe, the port [of Riga] has nothing to do at all. These announcements have also caused certain concerns among our international partners," Zeltins said.
He added that year-end is a time when the port's business partners - transport and logistics companies - renew their contracts.
"Let common sense win. Most importantly, there has to be freight and development, lest the shakeup of the system does service to our neighbors who are surely applauding already," the Freeport of Riga CEO said.
As reported, the US Department of the Treasury's Office of Foreign Asset Control (OFAC) on December 9 imposed sanctions on a number of natural and legal persons in Europe, Asia and Latin America, including on Latvia's Ventspils mayor Aivars Lembergs, based on the so-called Magnitsky act.
OFAC has listed four organizations that belong to or are controlled by Lembergs - Vetspils Freeport Administration, Ventspils Development Agency, Business Development Agency, and the Latvian Transport Business Association.
To deal with Lembergs' influence in the Freeport of Ventspils, the government on Wednesday decided to take over the ports of Ventspils and Riga.