International Internet Magazine. Baltic States news & analytics
Monday, 17.01.2022, 23:46
TransMin invites Germany, Ukraine, Azerbaijan to use Latvia's transport infrastructure
BC, Riga, 20.05.2016.

Print version
Latvian Transport Minister Uldis Augulis (Greens/Farmers) during the International Transport Forum in Leipzig, Germany, invited German, Ukrainian and Azerbaijani representatives to build cooperation with Latvia in transport, the Transport Ministry reported LETA.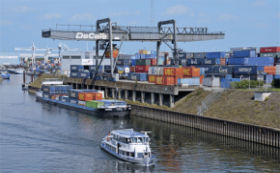 Duisburg port.
During the meeting with Norbert Barthle. Parliamentary State Secretary at the German Federal Ministry of Transport and Digital Infrastructure, Augulis said that Latvian ports had established active cooperation with German ports in transportation of cargoes and passengers. The aviation connections between the two countries and cooperation in road hauling also are good.
Developing transportation in the Eurasian direction is a key priority of the Latvian logistics sector at the moment, the transport minister said. In cooperation with Germany, Latvia is primarily interested in expanding cooperation in handling at Latvian ports the Chinese goods destined for Scandinavia and North Europe.
Negotiations have been started with Duisburg port about cooperation with Latvian ports in handling Asian cargos on their way to Scandinavia.
During the meeting with the Transport Minister of Azerbaijan, Ziya Mammadov, Augulis said that Latvia and Azerbaijan had built good and constructive relations in road hauling and aviation but called for increased cooperation, urging Azerbaijan to use the Latvian transport infrastructure for exports to the EU and Latvia as a logistics center for distribution of goods in North Europe and Scandinavia.
The Latvian transport minister also met with the Ukrainian Minister of Infrastructure, Volodymyr Omelyan. Augulis said that Latvia appreciated Ukraine's initiatives for development of the Trans-Caspian transit corridor and approved of its suggestion to connect to the corridor the Zubr container train running between the Ukrainian ports on the Black Sea and Latvian and Estonian ports on the Baltic Sea. When developing the Trans-Caspian transit corridor, it will be particularly vital to attract cargos from Turkey, Georgia and countries in central Asia, the Latvian transport minister said.
While discussing aviation cooperation, the two ministers presumed that the number of flights between Riga and Kyiv might increase soon, facilitating both business growth and tourism development.
Latvian Transport Minister Uldis Augulis was participating in the International Transport Forum in Leipzig, Germany, on May 17-19.