International Internet Magazine. Baltic States news & analytics
Tuesday, 26.05.2020, 23:51
European security: an urgent issue for the EU and the Baltics (part I)
Eugene Eteris, European Studies Faculty, RSU, BC International Editor, Brussels, 07.12.2018.

Print version
The European Commission organised a media seminar on the "security research", with a view of a deeper understanding of the complex security issues. The theme is of vital importance at present tense time for both Europeans and the Baltics' sub-region in line with EU's priorities of making Europe a safe place and enhancing regional security.
Photo I.
The Commission reported on progress made towards a new effective and genuine security union, which is going to include several European priorities like countering radicalisation, enhancing cybersecurity and protecting public spaces. Security is approached by the Commission in a broader sense; it was identified by the Commission as a key priority in the Joint Declaration on the EU's legislative priorities for 2018-19.
Together with the European Defence Industry Summit –another  event which gathered professionals from across the European defence industry, these two conferences provided a complex analysis and approaches towards a defence union, international cooperation with non-EU actors, cyber security, cyber defence technology and innovation as well as the role of SME's in defence procurement.
The media seminar on security research was organised by the European Commission DG (Directorate ‑General) on Migrations and Home Affairs, which is also responsible for security issues. We intend to publish more information on security issues in Europe.   
Researching the security issues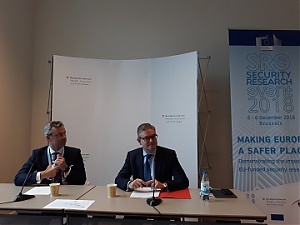 Photo II.
Security is a complex issue for any states, as well as for the EU "family"; generally, numerous issues are included in the "security notion", such as the quality or state of being secure with such "freedoms" as freedom from danger (so-called personal safety), from fear or anxiety, from being laid off (so-called job security), from financial disasters and so on and so forth. 
Plus some measures and/or actions that secures state/individual protection, i.e. like measures against espionage, sabotage, crime, attack, terrorism, etc. as well as the organization of the security's tasks, e.g. the department of homeland security in the US (https://www.dhs.gov/). 
Reference to the Webster's dictionary at https://www.merriam-webster.com/dictionary/security
The Security Research Event, or SRE-2018 annual seminar (which took place in Brussels, 5-6 December 2018), illustrated the research potentials in better assessment of security issues in Europe and perspective innovative activities. Hence, the main idea of the seminar was "Making Europe a safer place - demonstrating the impact of EU-funded security research".
Building on a deeper understanding of the issues at stake, the event offered an excellent opportunity to discuss all relevant security issues with the policy makers, practitioners, researchers and industry in a debate on how to shape a more innovative and safer Europe. Seminar's speakers included high-ranking EU's officials, including the Security Commissioner, ministers and other member states' representatives, as well as experts from the EU institutions, agencies and international bodies.
There were the following sessions at the SRE-18 conference: two high-level panels: "Making Europe a safer place" and "From the lab to real life: defence projects afterlife"; and several parallel panel sessions: such as citizens' awareness, counter-terrorism, boarder security, combating fires and disasters, radicalization, cybercrime and maritime security. 
The list of speakers included: Paraskevi Michou, Direstor General DG Home (welcoming speech), Norbert Hofer, Austrian Minister for transport, innovation and technology; Julian King, Commissioner for security union; Dan Nica, MEP.
At the media seminar with Brooks Tigner as a moderator, the following speakers participated: Andrea de Candiddo from the DG Home in charge of innovation and industry for security; Phil Waters from the US Department of Homeland Security; Alberto de Benedictis from the Commission's protection and security advisory group; Valeria Bricola, head of the sector project management in the Research Executive Agency, and David Caballero with specialisation in combating forest fires from MeteoGrid. (see media panel picture -I).
Norbert Hofer and Julian King also participated at the media's seminar closing session (see photo-II).
Administering European security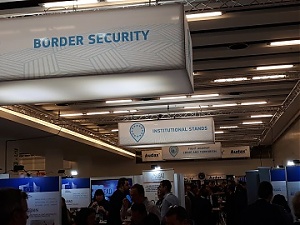 Photo III.
Up to October 2018, there have been sixteen progress reports on the European security Union's issues; during two year's history, the field "produced" already over 81 thousand different papers and documents. First progress report towards an effective and genuine security union was adopted in October 2016, the first "product" of a newly appointed Sir Julian King, European Commissioner for the Security Union in collaboration with the Security Union Taskforce.   
See more in: https://ec.europa.eu/info/departments/migration-and-home-affairs_en
In the DG for migration & home affairs there is a special secretariat of the task force on security union and two directorates: D – for security issues (including police cooperation, combating terrorism, organised crime, drug policy issues and cybercrime); and E – for security funds & financial resources (e.g. with national programs for Eastern European states).
Reference to: https://ec.europa.eu/info/sites/info/files/organigrammeseptember_en.pdf  
Conclusion
In modern time, we have to get rid of the old-fashioned and narrow approach to security as just a boarder control and adequate military power. Modern "security" includes numerous things: home policy, financial security and environmental quality, to name a few. 
The SRE-18 seminar has revealed complex structure of the EU security and innovation research spheres. These issues are of particular interest for the Baltic States: security research budgets are very limited in the Baltics being mostly tight-up with the defense budgets limited to 2% of GDP according to the NATO's rules. So, it's quite important to use the limited resources in the most efficient manner. In particular, as the SRE-18 revealed, the security research is much broader (or probably better to say, quite different) than the defence and military ones.
Although it is difficult separate security and defence, many spheres are interrelated: huge exhibition during the event has showed it quite well! (see photo-III).
The new EU "security union" is going to stay as its priorities suggest.
See more: https://europa.eu/newsroom/events/security-research-event-sre-2018_en; and
https://www.securityresearch-cou.eu/events.