International Internet Magazine. Baltic States news & analytics
Thursday, 06.10.2022, 10:55
Baltic States condemn Russia's invasion of Ukraine

Print version
Latvia condemns the invasion of Ukrainian territory by armed forces of the Russian Federation, the Foreign Ministry announced last night.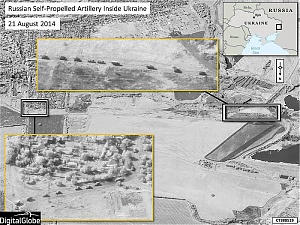 NATO satellite images of Russian combat troops' invasion.
This represents open aggression against the sovereignty and territorial integrity of Ukraine and undermines the fundamental principles of international law. The offensive actions undertaken by the Russian Federation pose a threat to peace and stability throughout Europe.
"Latvia supports an urgent review of this matter at the UN Security Council and other international organizations, and Latvia will propose that the 30 August European Council decide on further actions by the European Union in the context of Ukrainian crisis," the ministry said in the statement.
Latvia calls on Russia to immediately withdraw its armed forces from Ukrainian territory, and stop sending weapons and mercenaries to the terrorist groups of the so-called "people's republics" of Donetsk and Luhansk.
As reported, Zoryan Shkiryak, advisor to Ukrainian Interior Minister Arsen Avakov, said in an interview with the television "Espreso.TV" that Russian army had crossed into Ukraine and was advancing in several directions.
A correspondent for "The New York Times" newspaper in Novoazovsk, Ukraine, also confirmed seeing Russian troops enter Ukraine.
Lithuanian president Dalia Grybauskaite, as well as Lithuanian diplomatic service, strongly condemns Russia's armed invasion of Ukraine., informs LETA/ELTA.
"Lithuania strongly condemns Russia's military invasion of Ukraine. Such actions threaten Ukraine's existence, international peace and security. Lithuania has initiated an urgent meeting of the United Nations Security Council," reads Grybauskaite's statement, which was relayed to ELTA news agency by the president's spokesperson Modestas Naudzius.
The Ministry of Foreign Affairs has also issued a statement strongly condemning "an obvious invasion of Ukraine by the Russian armed forces".
Lithuania demands to immediately withdraw armed forces, weapons and military equipment from the territory of sovereign Ukraine, to cease any support for armed separatists in eastern Ukraine and to urgently consider the situation at the United Nations Security Council.
President Toomas Hendrik Ilves published a statement on the invasion of Russian troops to Eastern Ukraine on his office's website, reports the Office of the President of the Republic.
"Armed forces of the Russian Federation are attacking Ukraine. This is an act of military aggression that should leave no question about the disparity between Russia's words and actions," he stated.
Ilves added that it is impossible to speak seriously about diplomatic process or cease-fire negotiations if one country has de facto taken its armed forces without authorisation to the territory of another country while refusing to officially acknowledge being party to the conflict.
"Russia has been destabilising Ukraine for too long. By now, terrorists acting in Eastern Ukraine have received added reinforcements in the form of Russian military forces that can clearly be recognised. This is undeclared war," said Ilves in his statement.
He noted that Russia's activities are in gross violation of the UN Charter, the Helsinki Final Act and of the Paris Charter.
Ilves said that Western Allies should reach an agreement on the need to more decisively intervene to defend the sovereignty and territorial integrity of Ukraine.
The Estonian President also linked NATO satellite images of Russian combat troops' invasion in Ukraine to his statement.