International Internet Magazine. Baltic States news & analytics
Thursday, 09.07.2020, 00:58
Peres: Latvian government combating anti-Semitism manifestations
BC, Riga, 30.07.2013.

Print version
The Latvian government is combating anti-Semitism manifestations and this fight must not stop, not even for a moment, visiting Israeli President Shimon Peres pointed out during a state dinner hosted by Latvian President Berzins yesterday, writes LETA.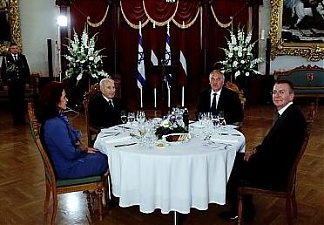 Solvita Aboltina, Shimon Peres, Andris Berzins and Edgars Rinkevics. Riga, 29.07.2013. Photo: president.lv
The atrocities of the Holocaust were perpetrated by the Nazis, but unfortunately they were also helped by local collaborators, said Peres.
Peres pointed out that the Jews were a sizeable minority during the first independent Republic of Latvia and they were represented in each of the four Latvian parliaments elected until World War II. The Jews of Latvia invested a lot in Latvia's prosperity, but the Holocaust destroyed them, said the president.
He reminded that 25,000 Jews were killed in Rumbula in just two days, including "children, senior citizens, women and men – all without a reason".
However, the Nazis "were resisted by several dozen Latvians, who were saving Jewish lives during these frightening times, risking their own lives. Such people were awarded the honorary title of "Righteous Among the Nations". We will never forget this," said Peres.
Peres also explained that, in the course of many years, many Jews who survived in Latvia migrated to Israel, including influential rabbis, state officials, public figures, scientists and intellectuals. During the two waves of emigration – in the 1970s and 1990s, immigrants from Latvia enriched the State of Israel in many areas and they actively participated in the development of Israel, making use of their experience gained in Latvia. At the moment, a small Jewish community remains in Latvia, maintaining its identity. This community was able to restore Jewish way of life in all areas. Its contribution to preserving the memory of the destroyed Jewish communities is invaluable, emphasized the president.