International Internet Magazine. Baltic States news & analytics
Wednesday, 07.12.2022, 22:17
Dombrovskis and UN secretary general discuss UN priorities and Latvia's interests
BC, Riga, 16.05.2013.

Print version
Yesterday, Latvian Prime Minister Valdis Dombrovskis (Unity) met with United Nations Secretary General Ban Ki-moon to discuss the UN priorities and Latvia's related interests, LETA was informed the prime minister's press secretary Martins Panke.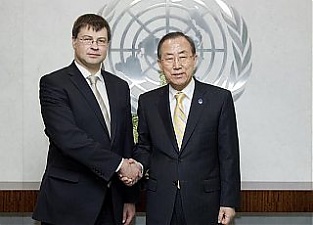 Valdis Dombrovskis and Ban Ki-moon. New York, 15.05.2013.
Dombrovskis informed the UN secretary general about Latvia's economic development and the government's goals of putting a greater emphasis on demographic improvements and reducing poverty and income inequality when overcoming the consequences of the crisis. The prime minister also emphasized that Latvia is planning to join Europe's single currency next year.
In the first half of 2015, when Latvia will assume the presidency of the Council of the European Union, the country's task will be to coordinate the bloc's cooperation with the UN. Therefore the sides also discussed in detail several matters that will be emphasized during this period. The UN secretary general informed the prime minister that the UN Millennium Development Goals, set by 191 UN member states and supposed to be achieved by 2015, will be assessed in the first half of 2015. Therefore it will be an important and challenging period for the UN.
The organization's future long-term development goals will also be discussed during the period and it is expected that Latvia, as the presiding country of the EU, will play an important role in these discussions.
Dombrovskis lauded the UN secretary general's active work on emphasizing gender equality worldwide and supporting long-term solutions to environmental problems. The prime minister also confirmed Latvia's support for these priorities.
The officials also discussed the situation in Syria and Mali. Dombrovskis told the UN secretary general about Latvia's involvement, including by sending National Armed Forces instructors and allocating state budget funds for Syria and Mali aid.
The prime minister also informed the UN secretary general about Latvia's candidacy for the 2014 Human Rights Council elections and for the post of non-permanent representative of the United Nations Security Council for 2026-2027.
In conclusion, Dombrovskis reminded about the Latvian president's invitation for the UN secretary general to visit Latvia. The UN secretary general in turn confirmed his intentions of paying a visit to Latvia.