International Internet Magazine. Baltic States news & analytics
Sunday, 27.05.2018, 08:07
Teikmanis urges U.S. ambassador to support Latvia's goal of joining OECD
Alla Petrova, BC, Riga, 29.08.2012.

Print version
Today, Latvian Foreign Ministry State Secretary Andris Teikmanis met with the new U.S. Ambassador to Latvia Mark Pekala, urging the United States to support Latvia's goal of joining the Organization for Economic Cooperation and Development (OECD).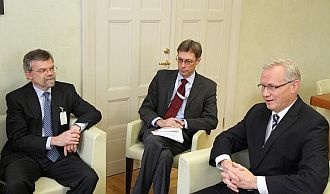 Mark Pekala and Andris Teikmanis. Riga, 29.08.2012. Photo: flickr.com
Latvia's accession to the OECD will improve the country's chances of pursuing its economic interests worldwide, LETA was informed by the Foreign Ministry's Press and Information Department.
The sides agreed that Latvian-American strategic partnership has become stronger over the past year, as indicated by the results of the NATO Summit in Chicago and the high-ranking visits of U.S. officials: Secretary of State Hillary Clinton, U.S. congressmen and a U.S. business mission.
Teikmanis emphasized Latvia's leading role in ensuring transport and logistics services within the framework of the Northern Distribution Network and commercialization of the network, and stressed opportunities offered by Latvia to continue implementing joint projects with the United States and supporting democratization processes in the European Union's Eastern Partnership countries.
Pekala lauded Latvia's resolve to increase the country's defense budget to two percent of gross domestic product by 2020, improve cooperation in economy and energy, and promote mutual contacts in educational and cultural projects.
The officials also discussed the latest developments in Russia and the Eastern Partnership countries, as well as future cooperation in solving transatlantic issues.