International Internet Magazine. Baltic States news & analytics
Monday, 28.05.2018, 08:25
Sudraba denies using her official job as springboard to political career
Gleb Vasiljev, BC, Riga, 19.07.2012.

Print version
Auditor General Inguna Sudraba has so far turned down all offers to go into politics, but she has decided to take the final decision at the end of the year; Sudraba rejects reproaches that she has already made a decision to establish her own political party, and is now using her official job to foster her political career.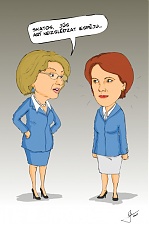 delfi.lv
Talking to LETA, Sudraba explained that she had turned down all offers she had received as she was the auditor general. Sudraba believes that she is good in her job, and does not need to do anything else besides it.
"The main factor is that political parties are uninterested in my experience or knowledge so they could really change something. What I have heard is, they need my face or my name. Under such conditions, I will not be part of any such activity" said Sudraba.
Commenting on her future plans, Sudraba says she has not yet seriously considered it. "I still have some time. When the year comes to a close, I will take a blank list and put all the pluses and minuses on it," said the official.
Sudraba said she could not do something that was against her conscience. Therefore, she will not participate in such activity where decisions will be made that she does not agree with. "I cannot go against my conscience, that is impossible for me," said Sudraba.
Commenting on Saeima Chairwoman Solvita Aboltina's (Unity) statements that Sudraba was using her official job to express some particular political viewpoints, Sudraba said this was not true, and that she had never expressed her political sympathies or antipathies.
"I always do my work professionally. That means that I treat everyone equally," said Sudraba.
In an interview with LNT television this morning, Aboltina criticized Sudraba for making increasingly political statements, paving herself the road into politics. "If someone wants to go into politics, the persons should not use his or her official job for this," said Aboltina.