International Internet Magazine. Baltic States news & analytics
Wednesday, 23.05.2018, 23:43
Central Electoral Commission planning to distribute over LTL 10 mln to Lithuanian political parties
Petras Vaida, BC, Vilnius, 09.07.2012.

Print version
This week, the Central Electoral Commission of Lithuania (VRK) is planning to distribute over LTL 10 million (EUR 2.9 million) to the political parties of the country ahead of upcoming parliamentary elections.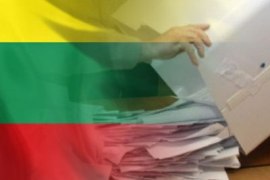 The VRK chief Zenonas Vaigauskas says that the budget allocations to the parties will be made before the general elections in October 2012, informs LETA/ELTA, referring to Vakaro zinios.

The size of allocation will depend on how a political party performed in the previous elections to the Seimas, local governments and the European Parliament.

This time, the greatest share of money from the public budget will go to the Conservatives as they will get over LTL 2.5 million (EUR 0.72 million). Almost LTL 1.8 million (EUR 520,000) will be given to the Social Democrats, LTL 1.5 million (EUR 435,000) to the Liberal Centrists, LTL 1.3 million (EUR 380,000) to the party Order and Justice. Meanwhile, around LTL 1 million (EUR 290,000) should be allocated to the Labour Party, LTL 700,000 (EUR 203,000) to the Liberals' Movement, LTL 650,000 (EUR 188,000) to the Electoral Action of Poles in Lithuania and LTL 530,000 (EUR 154,000) The Lithuanian Peasant and Greens Union. So the best pieces will go to the traditional parties, meanwhile, political newcomers will not get any support neither from the state nor the private sector.

The new system of funding of the political parties stipulates that the parties cannot be supported by legal persons, while natural persons can only donate during their political campaigns.