International Internet Magazine. Baltic States news & analytics
Saturday, 21.04.2018, 02:56
Riga street to be renaimed after Sumner Welles
Alla Petrova, BC, Riga, 29.06.2012.

Print version
"The June 28 ceremony is more than an act of renaming a street in Riga. It is a moving and symbolic act that acknowledges the important role of the strategic partnership between Latvia and the United States and honors the people and values who helped us to regain independence, withdraw the Soviet army, achieve strategic goals, join the European Union and NATO, as well as to maintain a strategic partnership with the United States," Saeima Speaker Solvita Aboltina (Unity) said addressing the participants in yesterday's street renaming ceremony in honor of former U.S. Under Secretary of State Sumner Welles.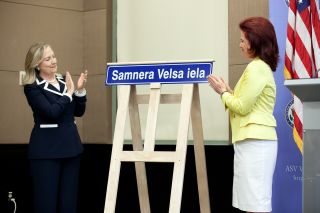 Hillary Clinton and Solvita Aboltina. Riga, 28.06.2012.
U.S. Secretary of State Hillary Clinton, who was on a one-day visit to Latvia yesterday, attended the ceremony as well, LETA was informed by the Saeima Press Service.
During the ceremony, Aboltina emphasized the role of dedicated and courageous people in history, and the role of Sumner Welles: "In 1940, when the Baltic States were occupied, with his principled and courageous actions, he laid the foundation for a non-recognition policy of the occupation of the Baltic States".
"The fact that the flag of Latvia continued to stand next to the flags of other independent countries at the U.S. Department of State inspired our fellow countrymen in the U.S. and elsewhere. It kept alive the flame of belief in the state of Latvia; it allowed us to hold on and endure," emphasized Aboltina.
"The fact that the U.S. considered diplomatic representative offices of the Baltic States as a part of foreign diplomatic corps until August 1991 and did not recognize forceful incorporation of the Baltic States in the Soviet Union encouraged other Western democracies to resist the pressure of the Soviet Union and to regard the Baltic States as unlawfully occupied," said the Saeima speaker.
Aboltina pointed out that June 28 is the day to remind ourselves that there are always people behind historic events and even destinies of nations – people with their courage, ideas and unshakable conviction.