International Internet Magazine. Baltic States news & analytics
Thursday, 22.04.2021, 20:16
Estonia assumes leadership of Assembly of States Parties of International Criminal Court
Juhan Tere, BC, Tallinn, 13.12.2011.

Print version
Yesterday in New York the 120-member Assembly of the International Criminal Court (ICC) chose Estonian representative Tiina Intelmann as president of the Assembly of States Parties of the ICC, foreign ministry press service said.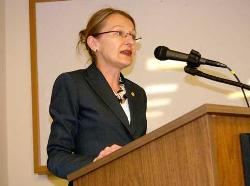 Tiina Intelmann.
For the next three years Estonia will lead the work of the ICC member states and mediate negotiations related to the court's functioning, writes LETA.
Foreign Minister Urmas Paet stated that for the next three years Estonia must ensure political support for the work of the court. "Political support is necessary in order for the court to function efficiently – for example, in fulfilling arrest warrants and in getting more countries to join the Rome Statute so that the court's jurisdiction would become global," said the foreign minister.
Paet said that the creation of the court could be considered one of the greatest breakthroughs in international law in the last decades. "The ICC is a means for preventing gross human rights violations, creating a base for sustainable peace, promoting reconciliation in societies affected by conflict, and helping these societies rebuild," noted the Estonian foreign minister. He added that against the backdrop of the events of the Arab Spring, the need for the administration of international criminal justice and especially for an international criminal court has clearly increased once again.
"While historically many temporary international tribunals have been created, for example those that administered justice for the crimes committed in Yugoslavia and Rwanda, now there is a permanent court that functions on the basis of an international agreement," he noted.