International Internet Magazine. Baltic States news & analytics
Wednesday, 22.09.2021, 01:34
Slesers' Reform Party LPP/LC to be liquidated
Alla Petrova, BC, Riga, 02.12.2011.

Print version
Delegates to Slesers' Reform Party LPP/LC congress yesterday voted for liquidation of the party. LPP/LC property and cash reserves will be handed over to the party's liquidator for settling the party's debts to creditors.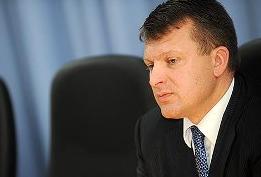 Ainars Slesers.
Lasma Mentele was appointed liquidator of LPP/LC, reports LETA.
Altogether, 152 delegates participated in the congress. 119 voted for liquidation of the party, 32 voted against, seven abstained.
Many of the delegates later admitted that the congress largely resembled a funeral, with a lot of flowers, talking about past events and words of praise for each other.
LPP/LC Chairman Ainars Slesers said the party had many important accomplishments, and praised the former prime ministers Ivars Godmanis and Andris Berzins as well as former LPP/LC ministers.
According to Slesers, LPP/LC made mistakes, which he did not comment though, but there were also many success stories.
Politicians must understand when they must go into politics and when they have to quit. In Slesers' opinion, LPP/LC must not stay with small parties not represented in parliament. Slesers said that members of LPP/LC were people of action, and they would find a way to continue work for the good of Latvia.
Slesers said that now he was able to devote more time to his children and himself. He said he would try to pursue his ideas, which were not implemented in politics, as a private businessman, for instance, he will try to bring new foreign investors to Latvia because that is something that he is really good at.
European Parliament Member Ivars Godmanis said addressing the congress that LPP/LC could be seen as a sinking ship, hampering active people working on local governments. Godmanis stressed that his and the other LPP/LC members' conscience was clear.
Riga Vice Mayor Andris Ameriks in turn said that LPP/LC members had formed a strong team at the Riga City Council, trusted by residents. According to Ameriks, the members of LPP/LC leave politics with pride and with the feeling of a job well done.