International Internet Magazine. Baltic States news & analytics
Sunday, 31.05.2020, 03:16
Riga Mayor Usakovs signs petition for making Russian second official language
Alla Petrova, BC, Riga, 08.11.2011.

Print version
Even though Harmony Center states that it does not support the signature drive for Russian as the second state language in Latvia, the party's leader, Riga Mayor Nils Usakovs, has signed the petition for the proposed amendments to the Constitution. The politician explains in his statement to the mass media that his move is not directed against the Latvian language, but in the name of dignity, writes LETA.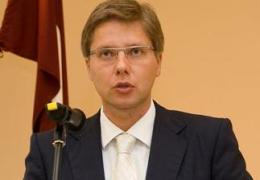 Nils Usakovs.
In the statement, Usakovs explains that he was infuriated by the All For Latvia!-For Fatherland And Freedom/LNNK (VL-TB/LNNK) Cabinet ministers, who voted against allocating funding for the referendum. "According to the law, if 10,000 signatures are collected, the state must fund the campaign, regardless of what the referendum's initiators are fighting for. In a democratic country that respects all citizens, its ministers must support the funding. However, the current government is not doing so. VL-TB/LNNK ministers called the initiators' goals immoral and voted against. They do not have rights to interpret the law as they please and separate the country's citizens into right or wrong ones," states Usakovs.
The politician believes that such actions can be perceived as a spit in the face.
"They indicate a lack of respect towards a considerable segment of the population. Harmony Center's voters confirmed during the recent elections that they are extremely tolerant and open to compromise, supporting the idea that those legislative initiatives that affect historical and national issues will not be discussed during the next three years. The party's voters were ready to agree to this for a greater good – we all want to live in a united society, where everyone respects each other, regardless of his/her nationality or native language, works for the state's benefit, which is perceived by both – Latvians and Russian-speaking Latvian as their homeland."