International Internet Magazine. Baltic States news & analytics
Monday, 06.07.2020, 00:01
Aigars Stokenbergs promises to make court proceedings speedier in Latvia
Alla Petrova, BC, Riga, 03.11.2010.

Print version
The new Justice Minister of Latvia Aigars Stokenbergs (Society for Different Politics) is resolute to do everything in his power to make court proceedings speedier in Latvia.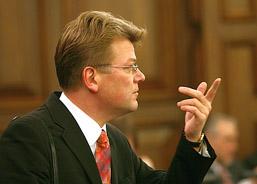 Aigars Stokenbergs.
This can be achieved by various methods, for instance, improving discipline in courts and by balancing out the number of cases heard in regional courts, Stokenbergs told LETA after the Saeima emergency meeting today. If one regional court hears fewer cases than the others, more cases should be moved from them to the one in question, said Stokenbergs, adding that this was permissible under the law and this had already been done in the past.
To improve discipline in courts, Stokenbergs plans to meet with court chairpersons. The new minister is indignant that a judge in an administrative court can only review eight cases a month. Stokenbergs did not wish to name how many cases exactly a judge should be able to hear within a month, but he said he would pay much attention to this problem.
Stokenbergs also wants to make court rulings available online, and to have European Court of Human Rights judgments available in Latvian in all the cases that are important for Latvia.
Previously Stokenbergs told LETA that his first three priorities would be to introduce uniform salary system for judges, bringing order to properties' cadastral values and tackling problems in Latvian prisons.
According to LETA files, Stokenbergs, born August 29, 1963, has a degree in law from the University of Latvia and a degree in economics from the BA School of Business and Finance.
Stokenbergs' first job was senior investigator at the Riga District Prosecutor's Office in 1985. He later worked as a Jurmala Court judge.
From 1995 to 2001 Stokenbergs managed World Bank and European Community's projects in Latvia at the Agriculture Ministry. In 2002 Stokenbergs became an attorney at law and began to practice with the law offices Brigis, Capkevics un partneri.
From 2004 to 2006 Stokenbrgs was advisor to then Prime Minister Aigars Kalvitis' (People's Party) on economic matters. In 2005, Stokenbergs was appointed deputy chairman of Latvenergo council, whereas in April 2006 Saeima confirmed him as new economy minister in the government of Kalvitis.
In October 2006, Stokenbergs was elected to the 9th Saeima, where he was soon confirmed minister of regional development and local governments in the government of Kalvitis. About a year later, Kalvitis dismissed Stokenbergs, who then had to return to the parliament and worked on the Legal Affairs Committee.
Last month, Stokenbergs was elected to the 10th Saeima from the Unity ticket.