International Internet Magazine. Baltic States news & analytics
Saturday, 01.04.2023, 20:38
Usakovs survives confidence vote as opposition councilors walk out
BC, Riga, 14.12.2018.

Print version
Riga mayor Nils Usakovs survived a confidence vote and remained in office as opposition councilors walked out of an extraordinary city council meeting this evening, reported LETA.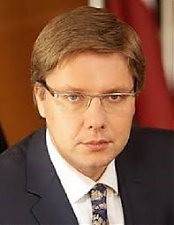 Addressing the city council, Usakovs stressed that the city council and Rigas Satiksme are two inseparable entities. "Achievements of Rigas Satiksme are our achievements and setbacks of Rigas Satiksme are our setbacks," the mayor said.
The mayor admitted that the events of recent days had undermined the reputation of both the city council and the transport company, as well as confidence in their good intentions. "All that was good has been broken, and I feel responsible for what it going on now. I am chairman of the Riga City Council and this is my responsibility. This day is my personal tragedy because seeing this news in the media is hard," Usakovs said.
The Riga mayor asked for a mandate of confidence so he could suspend the suspicious procurement procedures, step up control over other major projects and complete reforms. "I am asking for a mandate of confidence so I can overcome this crisis together with you," Usakovs said.
A number of opposition councilors took Usakovs to task, claiming his involvement in the Rigas Satiksme scandal and other corruption cases associated with the city council.
Earlier on Friday, the Riga City Council's opposition started gathering signatures to initiate Usakovs' sacking, but the Riga mayor called an extraordinary meeting of the city council before the opposition managed to submit their proposal.
Usakovs said he decided to ask for a confidence vote in him because of the latest developments in Rigas Satiksme municipal transport company whose managers are being probed for corruption.
As reported, the Corruption Prevention Bureau has started a criminal investigation into three procurement tenders organized by Rigas Satiksme: 2016 tender to buy low-floor trams for a total of EUR 62,597,477, 2013 tender to buy trolley-buses for a total of EUR 131,646,135, and one more 2013 tender to buy buses worth EUR 75,808,297.
Of the six persons that were arrested earlier this week as part of the ongoing probe into suspected corruption in the aforementioned tenders five have been remanded in custody. On Friday, Corruption Prevention Bureau arrested also former Rigas Satiksme CEO Leonds Bemgens.