International Internet Magazine. Baltic States news & analytics
Monday, 01.06.2020, 08:39
Estonian court tells gossip magazine to pay 9,500 euros to Olympic champion Salumäe
BC, Tallinn, 01.11.2018.

Print version
A court in Estonia has satisfied in part a claim by Estonian two times Olympic champion Erika Salumäe against the gossip magazine Kroonika for non-material damage and has ordered the publisher to pay Salumäe 9,500 euros in total, informs LETA/BNS referring to the online edition of Postimees reported.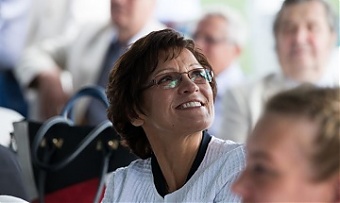 Erika Salumäe. Photo: postimees.ee.
Salumäe sued Kroonika over claims contained in an article published in the July 15, 2016 edition of the magazine on Salumäe's absence from her daughter's wedding. Among other things, the article spoke about the daughter having abandoned her given name, Sirli, and adopting Shanti Grand Uustalu as her new name.
In the lawsuit, Salumäe demanded Ekspress Meedia, publisher of Kroonika, to retract incorrect claims and discontinue a violation of personal rights, compensate her for non-material damage and relinquish the earnings resulting from the publication of the article.
The lawyer for Salumäe, Arsi Pavelts, said that the Harju County Court judged on October 29, 2018, that Kroonika has on repeated occasions, baselessly and on a large scale, published vile, damaging and insulting claims and appraisals concerning Erika Salumäe.
"The court established that all the claims and appraisals demeaning and insulting Erika Salumäe published by Kroonika are incorrect and lack any grounds whatsoever," Pavelts said.
Specifically, Salumäe demanded retraction of the claim that her absence from her daughter's wedding was due to her proneness to drinking alcohol. The court satisfied the demand and obliged Kroonika to publish a retraction complete with a clarification that Kroonika has published incorrect and false claims about Erika Salumäe.
It also demanded that Kroonika delete four articles on the subject from its web archive and social media account.
Kroonika must pay Salumäe 7,000 euros to compensate her for non-material damage and 2,500 euros as income earned through the publication of the article.
The lawyer added that Salumäe initially sought settling of the matter out of court, offering Kroonika the possibility on repeated occasions to retract the incorrect claims, and she repeatedly proposed an out of court settlement also during the course of the proceeding, but Kroonika refused as it didn't agree to compensate the Olympic champion for the costs related to the filing of the court action.
The chief editor of Kroonika, Krista Lensin, would say nothing about a potential appeal. "I know that the action was granted, but since the judgment has not stepped into effect yet I will answer when it's official," Lensin said.
Salumäe won the gold medal in track cycling at the 1988 Summer Olympics in Seoul, competing for the team of the Soviet Union and in the 1992 Summer Olympics in Barcelona, competing for Estonia.