International Internet Magazine. Baltic States news & analytics
Saturday, 13.08.2022, 05:47
Valdis Dombrovskis nominated as Latvia's prime minister
Alla Petrova, BC, Riga, 26.02.2009.

Print version
Latvia's President Valdis Zatlers told a press conference today that he has decided to nominate the European Parliament Member Valdis Dombrovskis (New Era) as the prime minister.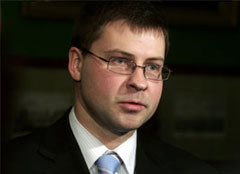 Valdis Dombrovskis.
Zatlers explained his choice saying that six political parties had informed him that they are ready to work in a government lead by Dombrovskis, which would allow him to form a new, wider coalition, writes LETA.
Furthermore, Dombrovskis is competent in economic and financial affairs and has the experience of work with European Union institutions.
Zatlers said that the other candidate, the Regional and Local Government Affairs Minister Edgars Zalans (People's Party) in turn is more knowledgeable in local government issues. Zatlers thanked both candidates for their readiness to take responsibility at a time that is so difficult for the country.
"This will be a new government, a new coalition," said Zatlers.
Asked why he believed the Cabinet makeup proposed by Dombrovskis would gain support from Saeima, Zatlers underlined that parties had expressed readiness to be lead by Dombrovskis as the new prime minister. "If the parties change their opinion, it will be their political responsibility."
Zatlers underlined that the tasks he assigned to Saeima and to the government on January 14 remain valid, and that on March 31 he would assess the results achieved in these matters.
As reported, yesterday Zatlers had meetings with two candidates: Dombrovskis and the People's Party candidate, the Regional Development and Local Governments Minister Edgars Zalans.
After a meeting with Zatlers yesterday evening, Dombrovskis did not yet reveal who could be appointed ministers if he was to form the next government, he only mentioned that he would consider Einars Repse (New Era) as candidate for finance minister's position.
Dombrovskis did say that his government would be made up of New Era, Civic Union, People's Party, Union of Greens and Farmers, For Fatherland And Freedom/LNNK. Whether Latvia's First Party/Latvia's Way will be invited to the government depends on whether the party insists that the party's co-chairman Ainars Slesers is appointed as the transport minister. Civic Union has already said that it will support Dombrovskis as the prime minister, and the People's Party, the Union of Greens and Farmers and For Fatherland And Freedom/LNNK also said that they could support Dombrovskis.
Society for Different Politics also said that it would support Dombrovskis' government, but the party's Saeima members do not covet any ministers' portfolios in the next government.
Dombrovskis admitted that New Era has resolved not to include those ministers in the government who "provoke very negative reaction from society", that is, the Finance Minister Atis Slakteris (People's Party) and Slesers (Latvia's First Party/Latvia's Way). A government lead by Dombrovskis would not include Harmony Center either, he said.
If New Era forms such a coalition, it would have the support from 64 Saeima members plus two Saeima members of the Society for Different Politics.
Dombrovskis said that there would be 14 ministries in his government, because the Ministry of Children, Family and Integration Affairs and the Electronic Government Affairs Minister's Secretariat would be liquidated and their functions passed to other ministries.