International Internet Magazine. Baltic States news & analytics
Sunday, 25.09.2022, 13:42
Riga Freeport handles record-breaking 34.07 mln tons of cargo in 2011
Alla Petrova, BC, Riga, 11.01.2012.

Print version
The Freeport of Riga turned over more than 34.07 million tons of cargo in 2011, beating all past annual cargo turnover records, the port informed the business portal Nozare.lv.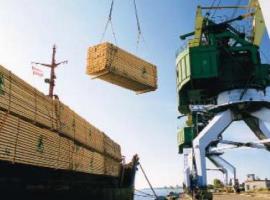 In 2010, Riga Port handled a total of 30.47 million tons of cargo.

Freeport of Riga CEO Andris Ameriks notes that it was clear already after the first quarter last year, when the port's cargo turnover increased 7.5% on the first quarter of 2010, that 2011 would be a successful year for the port, writes LETA.

"It was just in 2010 that the port, for the first time in its history, exceeded the 30 million ton limit, but now we have improved on that achievement by another four million tons," added Ameriks.

This though is logical, because investments made in the construction of new wharves and piers, dredging of shipping channels, reconstruction of access roads and other infrastructure development projects have made the Riga Port even more competitive, more attractive to new investors and more convenient for large shipowners.

Ameriks admitted that he deeply regretted that, due to reasons beyond the Freeport of Riga Authority's control, the large-scale Krievu Island project had not gotten under way last year, as this would bring new opportunities and further improve the port's competitiveness, and subsequently the economic situation in Latvia. Every ton of cargo handled at the Riga Port brings ten lats into the Latvian economy, which means that the port's contribution to the national economy was LVL 340 million in 2011, explained Ameriks.

Liquid cargo turnover increased the most last year, by 15%. A total of 7.52 million tons of oil products were handled at the port last year, compared to 6.53 million tons in 2010. Liquefied gas makes up but a small part of the port's liquid cargo turnover, but the increase in the amount of liquefied gas handled at the port last year was remarkable, 24%.

Container cargo turnover increased from 1.86 million tons in 2009 to 2.65 million tons in 2010 to 3.15 million tons in 2011.

The total amount of roll on/roll off cargo fell 19.5% from 2010. The volume of wood and other general cargo handled at the port also decreased, 8.8%, but this did not have much effect on the port's total turnover.

Bulk cargo accounted for approximately two-thirds of the port's cargo turnover last year, or 19.97 million tons. Coal made up the majority of bulk cargo turnover, with 13.49 million tons handled at the port last year.

The amount of mineral fertilizers handled at the port increased 24.5% in 2011, exceeding 1.7 million tons. Handling of grain and grain products increased 35%, the amount of ferroalloys handled at the port doubled, and handling of construction supplies, sugar, scrap metals and other bulk cargo also increased.

On the other hand, turnover of sawn timber reduced 15.1%, as did woodchip turnover (down by 13.8%), iron ore (17%) and peat. Nevertheless, the total amount of bulk cargo handled at the Riga Port last year was 14.5% higher than in 2010.