International Internet Magazine. Baltic States news & analytics
Wednesday, 22.05.2019, 22:10
Russian transport minister: high-speed railroad project between Riga and Moscow is economically justified
Alla Petrova, BC, Riga, 07.04.2011.

Print version
The high-speed railroad project between Riga and Moscow is economically justified due to increasing passenger and cargo turnover, and it is not political, Russian Transport Minister Igor Levitin said after a meeting with his Latvian counterpart, Uldis Augulis (Union of Greens and Farmers), today.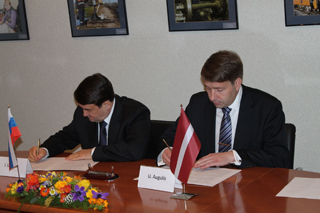 Igor Levitin and Uldis Augulis. Riga, 7.04.2011. Photo: Transport Ministry of Latvia
The cargo turnover is sufficient and the improvement of the infrastructure would provide basis for further development, explained Levitin.
Levitin admitted that it would be wrong to lose out on the amount of cargo due to insufficient capacity of railroad infrastructure. There is also a potential in passenger turnover. 500,000 passengers are carried every year, and 270,000 choose railroad companies' services. Levitin believes that the passenger turnover will increase 30% after the construction of the Helsinki-St. Petersburg railroad.
The minister explained that Russian ports cannot handle the entire amount of cargo, even though their capacity increases by 30 million tons per year. Levitin also informed that since Russia will be joining the World Trade Organization, it will need to adjust its railroad tariffs, which will be done by the end of this year.
Levitin had doubts whether Rail Baltica project will be economically justified. The minister pointed out that it is necessary to establish the potential passenger and cargo turnover, and only then it will be possible see if the project is economically reasonable.
Augulis in his turn explained that both sides agreed today to set up a task force to solve issues on Latvian-Russian border, and also discussed the improvement of railroad and highway infrastructure.
Augulis emphasized that the high-speed railroad project between Riga and Moscow and Rail Baltica do not exclude each other and denied the information that if Latvia will implement Riga-Moscow project, it will lose the European funding for Rail Baltica.
As reported, European Transport Commissioner Siim Kallas previously said in an interview in April 6 edition of the ''Latvijas Avize'' newspaper that due to lack of political will in Latvia, the Rail Baltica project, linking the Baltics and Western Europe with a high-speed rail line, could be lost.
He also added that he does not see any possibility of the Riga-Moscow high-speed rail project becoming an EU project.
''Europe already has several bad examples, where political decisions have been made, but there is no money. So these projects never take off and lead to unpleasant situations,'' Kallas said.
''I do not have anything against good relations and cooperation with Russia, however, they must not become misleading,'' Kallas added.