International Internet Magazine. Baltic States news & analytics
Thursday, 02.07.2020, 15:10
First container train from China's city of Xi'an arrives at Riga port
BC, Riga, 16.11.2018.

Print version
On Friday night, the first container train from China's city of Xi'an arrived at the Riga port, Latvijas Dzelzcels railway company reported.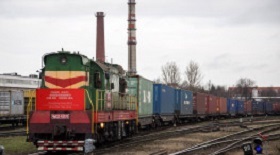 At the same time, it is the 1,000th container train shipped from Xi'an International Trade and Logistics Park and the first container train on the Minsk-Riga route.
The train has headed to Riga two months after Latvijas Dzelzcels president Edvins Berzins signed the strategic cooperation agreement with Xi'an International Trade and Logistics Park. The container train will be further shipped by sea to the German and Finnish ports.
"Latvia will celebrate its centenary in two days. We present the first container train on this significant anniversary from the steeply growing Xi'an economy. The partners have evaluated our capacity, and we have met their hopes, ensuring that the train is carried through Latvia's territory in 12 hours. Thus, our joint project with the Belarus railway has been successfully tested also in transportation of such container trains as this," said Berzins.
Latvijas Dzelzcels also noted that on this day the Riga port also received more than 260 containers from the Rotterdam port that should be shipped to China. Also these containers will be transported, using the Minsk-Riga route.
Latvijas Dzelzcels is a state-owned railway company. Latvijas Dzelzcels group comprises the parent company, Latvijas Dzelcels, and six subsidiaries: LatRailNet, LDz Cargo, LDz Infrastruktura, LDz Ritosa Sastava Serviss, LDz Apsardze, and LDz Logistika.