International Internet Magazine. Baltic States news & analytics
Monday, 27.03.2023, 17:47
Report ranks Estonia 2nd on list of low-risk countries for money laundering
BC, Tallinn, 10.10.2018.

Print version
Estonia is the country with the second lowest risk of money laundering and the financing of terrorism in the world, according to the Basel Anti-Money Laundering Index, an independent annual ranking that assesses the risk of money laundering and terrorist financing (ML/TF) around the world, cities LETA/BNS.
Estonia ranks second after Finland, and ahead of Lithuania, having improved its standing by one notch compared with the previous similar survey. Denmark, which is suffering from the scandal related to alleged money laundering at the Estonian branch of Danske Bank, dropped more than any other country in the fresh rankings.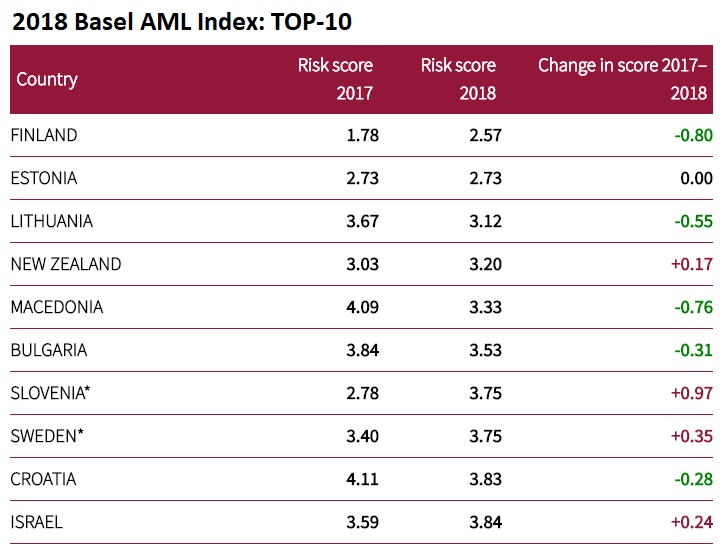 Estonia ranked second with 2.73 points in the fresh index, keeping its point score unchanged from last year despite the Danske scandal. Mostly as a result of the same scandal, Denmark's score moved up 1.14 points to 4.11 and the country finished 16th among the 129 nations ranked.
In addition to Denmark, also Iceland and Slovenia saw their point score move higher by respectively 1.07 and 0.97 points.
In that connection, the report points out that Iceland, Denmark and Slovenia recorded a significantly higher risk rating in 2018 due to having been assessed using the new FATF evaluation methodology, which measures not only technical compliance but importantly emphasizes effectiveness. The overwhelming majority of countries assessed with the updated methodology so far have received dramatically lower scores for effectiveness than for technical compliance.
"The recent Danske Bank scandal seems to confirm the observation that there are big issues with the effectiveness of money laundering supervision in countries generally regarded as low-risk," the report says.
Despite a deterioration in risk scores for some of the lower-risk countries in 2018, the list of countries with the lowest assessed risk has not changed significantly in recent years. Between 2017 and 2018, Latvia, Iceland, Denmark and Poland left the list of top 10 low-risk countries and Lithuania, Macedonia, Bulgaria and Croatia joined it.
While some countries have a lower risk of money laundering than others, no country was rated as having zero risk of ML/TF. In fact, the Basel AML Index shows an increase in the minimum risk score, from 1.78 in 2017 to 2.57 in 2018.
The increase may partly be due to improved detection mechanisms and more availability of data. Another factor is changes in the Financial Secrecy Index, which automatically assigns a raised level of risk to countries with a large share in the global financial sector.
The index for 2018 is the seventh edition of the Basel AML Index issued by the International Center for Asset Recovery, part of the Basel Institute on Governance. The index offers an overview of 129 countries according to their risk of money laundering and terrorist financing