International Internet Magazine. Baltic States news & analytics
Sunday, 24.10.2021, 02:19
564,000 cruise passengers visit Estonia in past season
BC, Tallinn, 16.10.2017.

Print version
A total of 311 cruise ships called in the Estonian capital Tallinn during the 2017 cruise season, bringing more than 564,000 passengers here, reports LETA/BNS.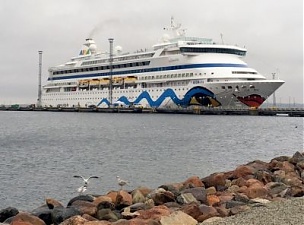 Photo: ts.ee
The last cruise ship visit of the season was a call by the ship Aidavita on Monday, which brought 1,374 passengers to the capital of Estonia, the state owned port company Port of Tallinn said.
The number of cruise ship calls during the 2017 season was 311 and the number of passengers they bought here was a new all time high of 564,300.
During the 2016 season, cruise ship calls numbered 271 and passengers 474,000.
Eight ships called in Tallinn for the first time in the 2017 season. The biggest vessel that berthed here during the past season was the 333.3-meter MSC Fantasia, the longest ever ship to have called in Tallinn, which brought 3,800 passengers to the Estonian capital.
On two days, May 21 and July 20, six different cruise ships called in Tallinn. The number of cruise visitors was biggest on June 7, June 29, July 3 and Aug. 1, surpassing 9,000 on each of these days.
The deep sea port of Saaremaa, owned by Port of Tallinn, hosted five cruise ships in the past season which brought 1,505 cruise passengers to Estonia's biggest island. The season in the cruise harbor of Saaremaa started on July 18 with the arrival of the ship Serenissima and ended on Sept. 14 with a call by the ship Amadea.