International Internet Magazine. Baltic States news & analytics
Monday, 18.02.2019, 13:08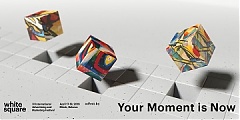 14.02.2019
Just during two days, February 14 and 15, each participant who submits 5 or more entries to White Square will be presented a full entry pass to all the events of business, educational and evening programs of the upcoming festival!
30.01.2019
According to experts, the private capital investments market of Estonia and the Baltics is quickly developed and stable but lacking competition between investors, writes LETA/BNS.
30.01.2019
Enterprise Estonia is to support the organization of international conferences in Estonia with 300,000 euros this year, while support can be applied for starting from Feb. 1, reported LETA/BNS.
29.01.2019
The presence Estonian and Lithuanian companies at the annual tourism industry fair Balttour 2019 is expected to be increased this year amid Latvian tourists' growing interest in traveling the neighbor countries, Balttour project manager Dainis Bricis told journalists.
28.01.2019
Technology leaders from Google, Netflix, Spotify, Amazon, Nvidia, Taxify, Microsoft and Starship are about to meet the president of Estonia during a conference in Tallinn in March to talk about data and adoption of artificial intelligence in Europe, informed LETA/BNS.
24.01.2019
President Dalia Grybauskaitė met with Petro Poroshenko, President of Ukraine, and the new Prime Minister of Armenia Nikol Pashinyan for bilateral conversations in the background of the World Economic Forum, press service of the Lithuanian president nformed.
24.01.2019
On 1–3 February, Ķīpsala will host the 26th International Travel Trade Fair Balttour 2019, where more than 850 participants will be offering the best travel packages and destinations in Latvia and around the world. The biggest selection, special offers and an amazing atmosphere in one place!
23.01.2019
It has already become a tradition for TechChill to host the Fifty Founders battle, the startup pitch competition that showcases the most promising startups from the Baltics, Nordics and beyond. This year teams are competing for the main prize - 10 000 EUR with no strings attached, as well as the fast track to Silicon Vikings Startup World Cup Finals in San Francisco on May 17, 2019. Fifty lucky teams that will pitch their idea at TechChill have been announced.
22.01.2019
On January 31 an "early bird" & most profitable period of the call for entries to XI International advertising festival White Square will be finished.