International Internet Magazine. Baltic States news & analytics
Monday, 19.08.2019, 07:40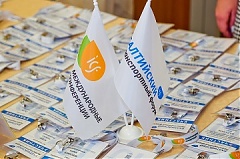 16.08.2019
On September 11, 2019, in Kaliningrad, at the 11th International Baltic Transport Forum, experts from different countries will share their vision of the development of the region.
30.07.2019
We are most pleased to announce early confirmed speakers during our International Baltic Transport Forum, taking place in Kaliningrad, Russia on 11th & 12th of September 2019.
26.07.2019
On Saturday, 27 July, the annual World Jazz Festival will be held in Riga where stars of jazz music are attracted from different parts of the world. Concerts of the World Jazz Festival are traditionally supported by Rietumu.
19.07.2019
These days, Dzintari Concert Hall in Jurmala is the venue of the Laima Vaikule international music festival Laima Rendezvous Jurmala 2019. The festival will last until 21 July and more than 40 popular artists from more than a dozen countries will take part in it. Support for the festival is traditionally provided by Rietumu Bank.
17.07.2019
In November 7-8, Riga, the largest capital in the Baltics, will host the international conference "Architecture of Migration", focusing on migration and its different measures from the interest points of architecture, territorial planning, and infrastructure development. Today migration is defined as one of the key concerns among Europeans – in its multifaceted nature, it takes place on global, regional, and national level at the same time.
16.07.2019
On September 11, 2019, the International Baltic Transport Forum will take place in Kaliningrad for the 11th time. Traditionally, the event will be under the auspices of the Government of the Kaliningrad region.
09.07.2019
The "Identification" exhibition of the modern and talented Moscow painter Darya Kotlyarova has opened at Rietumu Bank gallery. The exposition presents her works created during the last five years and united in a single conceptional cycle.
02.07.2019
Latvia is interested in attracting investment to its ports, modernizing existing infrastructure, boosting competitiveness and the efficiency of the multimodal transport corridor through Latvia, Transport Minister Talis Linkaits (New Conservative Party, JKP) said at the plenary meeting of the International Belt & Road Forum in Belarus, informed LETA.
14.06.2019
From 15 to 23 June, already for the tenth time, classes of the Vladislav Tretiak and Sergey Naumov International School of Goaltending will be held in Riga.During these years, dozens of trainees of the School have achieved success in their sporting careers, many have gone on to join top class teams and represent their nations or are hot prospects for the future. From the very start of the School in Riga, it has been supported by Rietumu Bank.
12.06.2019
Last week, the «Gada balva hokejā» professional awards (the annual prize for hockey) were presented in Latvia for the first time. Lauris Darzins, captain of the Latvian national team that successfully performed at the recent Ice Hockey World Championship in Slovakia, was recognised as the best ice hockey player of the country. The participation of the Latvian team in this tournament was supported by Rietumu Bank.