International Internet Magazine. Baltic States news & analytics
Wednesday, 25.11.2015, 14:17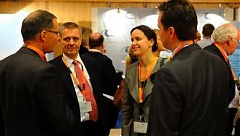 24.11.2015
Since 1999 the annual BDF Summits have provided a meeting place for top representatives from business, politics, academia and civil society, offering a high-level and well-known platform for policy formulation, business matchmaking and cross-sectorial dialogue among the Baltic Sea Region's states. BDF Summit has attracted about 400 participants from all Baltic Sea Regions' most important decision-making bodies.
23.11.2015
Latvian PM Laimdota Straujuma's (Unity) China visit began yesterday in Shanghai, meeting with local leaders and 50 members of the Latvian community there, reports LETA.
19.11.2015
If Europe was able to overcome the challenges and chaos of the immediate post-war years, it must be able to cope also with the challenges that it is faced with now, Estonian President Toomas Hendrik Ilves said in his speech in Zurich on November 17th, cites LETA/BNS.
17.11.2015
Latvia's third largest city Liepaja has just witnessed the opening of a world class acoustic concert hall the "Great Amber". It's peculiar architectural design and excellent acoustics has put Liepaja on the cultural map of the world, reported BC GREAT AMBER public relations manager Elizabete Hartmane.
16.11.2015
A regular session of the Uzbek-Latvian intergovernmental commission on economic, industrial and scientific-technical cooperation was held at the International Business Centre in Tashkent on 12 November 2015.
16.11.2015
Latvian Employers' Confederation has named Uldis Pilens, CEO at the UPB corporation, the businessman of the year 2015 in Latvia, reports LETA.
13.11.2015
International Black Sea Transport forum 2016 will be held on October 19-21, 2016 in Odessa at the territory of Odessa marine terminal. It includes the 19th international exhibition on transport and logistics "TransUkraine 2016", specialized exhibition on railway transport "TransRail Ukraine 2016", specialized exhibition "Commercial and Municipal transport 2016" as well as the 13th international exhibition on shipping, shipbuilding, ports development "Odessa 2016", the 19th International conference on transport and logistics "Development of transport service market in Ukraine in the context of integration into the European and global transport infrastructure".
13.11.2015
The judiciary have an important role to play for Latvians to feel safe in their country, Latvian President Raimonds Vejonis said, addressing the annual conference of judges, reports LETA.
12.11.2015
Nordicban, a network of Nordic investors with an estimated investment capacity of 650 million euros that will seek to bring together startups and angel investors active in the region to give them access to a bigger capital offer and investment network, was set up ahead of the Slush meeting of startups and tech talent in Helsinki on November 10th, reports LETA/BNS.
12.11.2015
"European countries must quickly embrace the innovations of start-up companies in order to give the European Union a competitive edge over the USA and Asia. One effective example of such co-operation between the public and private sectors is the pilot project of technology company Uber and the Tax and Customs Board of the Republic of Estonia, which introduces a solution for global cash-free taxation services. Estonia is looking for a solution instead of prohibiting a new form of business," said President Toomas Hendrik Ilves who discussed the future of the common European digital market with the former European Commission Commissioner for Digital Agenda, Neelie Kroes, in Helsinki at Slush, a conference that focuses on information technology and start-up companies, reports BC presidential press service.
11.11.2015
At the prestigious international contest "The Coin of the Year", the collector coin "Baltic Way" ("Baltijas cels"), issued by the Bank of Latvia in 2014 and dedicated to the 25th anniversary of the Baltic Way, was recognized as the Best Contemporary Event Coin winner, informs LETA.