International Internet Magazine. Baltic States news & analytics
Sunday, 21.04.2019, 02:09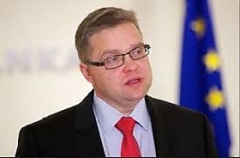 16.04.2019
Speech by Mr. Vitas Vasiliauskas, Chairman of the Board of the Bank of Lithuania, on the topic of central bank digital currencies, delivered at the Reinventing Bretton Woods Committee conference Managing the Soft Landing of the Global Economy, held in Washington DC.
03.04.2019
"The Rail Baltica Global Project will create opportunities for people in the region to increase their welfare from the design and construction phases of the project," said Timo Riihimäki, CEO and Chairperson of the Management Board of RB Rail AS, addressing the Rail Baltica Global Forum participants on 3 April in Vilnius. "In addition, current megatrends – urbanization, digitalization and climate change, are all in favor of Rail Baltica, which will provide efficient transportation solutions for passengers and freight and will help the region to address challenges posed by the climate change."
03.04.2019
he Rail Baltica Global Forumhas been opened today in Vilnius. The two-day annual forum gathers more than 700 executives, decision makers, rail, logistics, economics experts and potential suppliers from across Europe to discuss the potential of Rail Baltica for the region and common transport infrastructure developments in Europe.
27.03.2019
Several main issues were discussed during this year's Baltic Sea Region Forum of Finland concerning regional future challenges, organised by the Centrum Balticum, including the labour mobility and sustainability, with some circular economy issues included. Over 300 hundred participants and 27 outstanding speakers from all walks of political, academic and business communities in countries around the Baltic Sea took part in the forum.
26.03.2019
This spring a contest of young performers of classical music "Inese Galante Talents" with a goal to discover the young and talented performing artists and support the young musicians at the start of their career will be held with the support of Rietumu Bank's Charity Fund. Every year about 300 performers participate in the contest, bringing together talents from Latvia, France, Estonia, Italy and other countries.
26.03.2019
Last week, at a solemn ceremony in the headquarters of Rietumu Bank, winners of the composition competition among Latvian pupils were announced.
22.03.2019
Nord Stream 2 AG, the developer of a natural gas pipeline through the Baltic Sea, took part in the 20th Baltic Sea Day international environmental forum.
21.03.2019
An exhibition named the "Cimmerian Summer" of the Latvian painter Nikolajs Djomins has opened in Rietumu Bank's Gallery.
15.03.2019
One of the largest festivals of creative marketing and advertising communications in Eastern Europe – White Square – will take place in Minsk on April 17-19 and will gather an international lineup of participants from over 30 countries of the world who will come to Belarusian capital to learn about the latest industrial trends and get inspired by the most innovative and original creative cases of the region.