International Internet Magazine. Baltic States news & analytics
Sunday, 19.04.2015, 17:08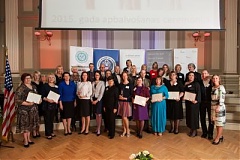 17.04.2015
On April 16th 2015 during the Awards Ceremony and Dinner at the State Gymnasium No.2, the winners of the Human Development Award 2015 were announced in Latvia: Jurmala Protection Association, subsidiary of Tautskola 99 Baltie zirgi "Ikskiles Briva Skola", "Ronald McDonald House Charities Latvija" Care Mobile and Andris Ceksters, reported BC executive director at AmCham Latvia Liga Smildzina-Bertulsone.
16.04.2015
Lithuania's National Audit Office signed a cooperation agreement with the association Mentor Lithuania, which came into effect on 13 April, 2015, reports LETA/ELTA.
16.04.2015
When thinking about future, we have to think about saving resources now through cooperation with neighboring countries and implementation of common projects, the Director-General for Environment of the European Commission, Karl Falkenberg said in his opening speech at f the forum "Building the Bridge to Clean Technologies between European and Central Asia Countries" (Green Bridge Forum 2015), cites LETA.
16.04.2015
Strengthening of rural and agricultural advisory systems that are vitally important for economic development of every country, and establishing a closer cooperation with EU Member States in this area, are the topics of the joint declaration of individual Ministers (Georgia, Moldova and Ukraine), and Vice-Ministers (Armenia, Belarus) of Eastern Partnership States, signed today in Riga, reports BC the Ministry of Agriculture.
16.04.2015
On 15 April 2015, Foreign Minister Edgars Rinkevics met with Elmar Mammadyarov, the Foreign Minister of Azerbaijan, who was in Latvia on an official visit. During the meeting, Edgars Rinkevics acknowledged the advancement of bilateral relations between Latvia and Azerbaijan, reported BC the Latvian MFA.
16.04.2015
On April 15, a high level forum "Building the Bridge to Clean Technologies between European and Central Asia Countries" (Green Bridge Forum 2015) has been opened. The forum is visited by delegations from 19 countries, including public institutions and businesses, reported BC Green Bridge Forum 2015 PR consultant Ruta Grikmane.
16.04.2015
On 15 April 2015, Minister of Foreign Affairs of Lithuania Linas Linkevicius in a meeting with Parliamentary Deputy Minister for Foreign Affairs of Japan Kentaro Sonoura expressed his gratitude to Japan for supporting Lithuania's ambition to join the Organisation for Economic Co-operation and Development (OECD) and noted that Lithuania is looking forward to mutually beneficial cooperation within the OECD, reports BC the Lithuanian MFA.
15.04.2015
The topic of the international interior architecture symposium SISU 2015 is "The Impact of Space" and it will take place from 27th to 30th May at Von Krahl Theatre in Tallinn, Estonia.
15.04.2015
During the crisis in 2009, about 105 farms were on the threshold of bankruptcy, but thanks to expert consultations, it was possible to save them, this according to Janis Duklavs (Greens/Farmers) during today's conference of the Latvian Rural Advisory and Training Center, reports LETA.
15.04.2015
The Agency for Science, Innovation and Technology (MITA) in Lithuania has launched a competition for students to complete an internship with NASA Ames Research Centre in the United States and is now accepting applications, informs LETA/ELTA.
15.04.2015
On 16-18 April 2015, the International Textile Industry Fair "Baltic Fashion & Textile Riga 2015" takes place at Kipsala International Exhibition Centre in Riga where over 30 Lithuanian companies will present their products and services, reports BC Lithuanian Embassy in Latvia.