International Internet Magazine. Baltic States news & analytics
Tuesday, 07.07.2020, 15:36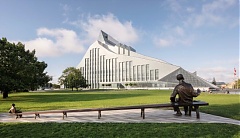 06.07.2020
Every Monday from 10:00 to 15:00 starting 6 July, the National Library of Latvia (NLL) invites tourists and other interested parties to visit the ground floor of the Castle of Light. Visitors can tour a number of exhibitions, learn fun facts about the NLL and its history, take in the People's Bookshelf and enjoy coffee or lunch at the Kliversala restaurant.
17.06.2020
The Estonian Autosport Union and Rally Estonia have announced in a joint statement that they are trying together to bring a World Rally Championship (WRC) stage to Estonia, informs LETA/BNS.
15.06.2020
Rietumu Bank's Charity Fund has allocated funds to complete the reconstruction of the tower and install the facade lighting of St James's Cathedral in Riga Old Town.
10.06.2020
The Lithuanian government on June 10th further lifted the limit on public gatherings. The Cabinet allowed outdoor events with up to 700 attendees and indoor events with up to 150 from June 17, reports LETA/BNS.
09.06.2020
Until the end of June 2020, up to 100 people will be allowed to gather at indoor events and up to 300 at outdoor events in Latvia, according to the epidemiological safety regulations for curbing the spread of Covid-19, drafted by the Health Ministry.
08.06.2020
After the state of emergency related with Covid-19 pandemic ends in Latvia, sports events, adult education and children's camps will be allowed, observing certain safety rules, said Health Minister Ilze Vinkele (For Development) in an interview with the Latvian public radio today, cites LETA.
04.06.2020
The photo contest "Quarantine Dads" was announced by the Swedish Embassy in May 2020 and will be continuing until the end of summer. The aim of the contest is to collect stories of how fathers in Latvia experience the time of physical isolation together with their children.
03.06.2020
he Riga Tourism Development Bureau (RTAB) has developed a tourism recover plan with the aim of assisting the city's tourism industry after the Covid-19 pandemic, the head of the RTAB Anna Blaua said on Wednesday, cites LETA.
28.05.2020
The Estonian government on Thursday decided to ease restrictions related to COVID-19 in the field of travel, public events, the organization of sporting events, and education, reports LETA/BNS.
21.05.2020
The deadline of the call for entries to one of the largest creative awards shows in Europe – International advertising festival White Square – comes on May 31. Supporting communications industry, the festival is meant to help the agencies that, despite difficult conditions of the new reality, strive to demonstrate internationally their brightest works, worthy of festival awards and capable of giving inspiration to the industry.
21.05.2020
Estonia's flagship startup and tech gathering Latitude59 in 2020 will be taking place both at the Tallinn Creative Hub (Kultuurikatel) as well as online, informs LETA/BNS.