International Internet Magazine. Baltic States news & analytics
Tuesday, 21.09.2021, 22:53
"Northern Future Forum 2013" to take place in Riga
Nina Kolyako, BC, Riga, 08.03.2012.

Print version
The heads of state of Great Britain, the Nordic countries and the Baltics will gather for "Northern Future Forum" in Riga in 2013, Latvian Foreign Minister Edgars Rinkevics and UK Minister for Europe David Lidington said during a press conference in Riga today.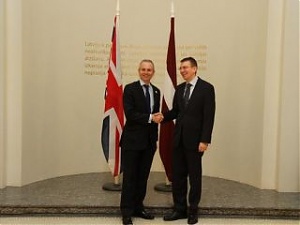 David Lidington and Edgars Rinkevics. Riga, 8.03.2012. Photo: flickr.com
The third "Northern Future Forum" is scheduled to take place in Riga next February.
Both Rinkevics and Lidington denied rumors that this forum could become more formal in the future, because they believe that the informal atmosphere of the meetings is an advantage, informs LETA.
"It is very good that the Northern European leaders have found the opportunity to meet and exchange ideas with one another in an informal atmosphere. I am inspired by the courage of Latvia's leaders and the sacrifice made by the country's people to restore Latvia's finances and create a competitive economy, which is prepared for future economic challenges within Europe and the around the world," Lidington said.
Rinkevics also said during the press conference that people should not to perceive the "Northern Future Forum" as a bloc of some sorts.
As reported, the first such forum was held in January 2011 in London, which was organized by the British government in order to exchange points of view between Great Britain, the Baltics and the Nordic countries.
LETA also reported, the Swedish newspaper Dagens Nyheter (DN) previously wrote that behind the headline discussions on pension ages and women in boardrooms, the "Northern Future Forum" meetings might have a longer-term strategic purpose, at least for British Prime Minister David Cameron: to forge a long-term alliance between the Northern European countries.
Britain's "Financial Times" offered a similar view, saying that Cameron, who has a long-standing friendship with Swedish PM Fredrik Reinfeldt, was looking to find allies to counterbalance French views on economic management.