International Internet Magazine. Baltic States news & analytics
Tuesday, 22.09.2020, 04:33
Catalogue of Ivan Aivazovsky Works Has Been Published
BC, Riga, 26.08.2020.

Print version
A week ago last year, a catalogue presentation of the Ivan Aivazovsky exhibition was held in the Art Museum Riga Bourse. The exhibition and the catalogue received financial support from the Rietumu Bank Charity Fund.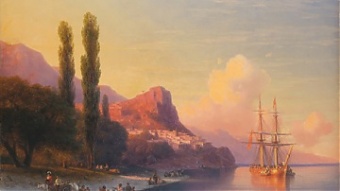 The large-scale exhibition "Metaphysics of Light" was held with great success in one of the main museums of Riga last autumn and winter. The exhibition presented several dozens of works of different genres – marine, landscapes and historical compositions, including, for the first time in Latvia, paintings from Odessa Art Museum and museums of Estonia. Visitors also were able to see works of Ivan Aivazovsky from the collection of the Latvian National Museum of Art.

As the Chairman of the Board of the Rietumu Bank Charity Fund Arkady Sukharenko noted in his introduction to the catalogue, "The exposition was organised with great taste and tact. Impressions from it were fresh, sincere and highly personal. We could see with our own eyes and feel the magic of light and the bright colours of the south, and, certainly, the mystical drama of the sea – all these things that make us love the art of Ivan Aivazovsky, an artist of European and world-wide renown.

Rietumu Bank Charity Fund has supported both the exhibition and the catalogue publication with pleasure and enthusiasm. The number of our joint projects with the Latvian National Museum of Art has exceeded two dozen, and we hope that this cooperation will continue and there will be many more remarkable things to be done jointly in the future."

The composition of the Riga exhibition was truly unique. Many of the paintings presented there had either not seen each other for quite a time, or never met. Among the famous works of the artist, paintings such as "View of Vesuvius the Day Prior to the Volcano Eruption", 1885 (Art Museum of Estonia); "Pushkin on the Black Sea Coast", 1897 (Odessa Art Museum); "Seascape (Evening)", 1855 (Latvian National Museum of Art); landscape "Fog on the Sea", 1884 (Latvian National Museum of Art), which was a gift to the city from the artist after his personal exhibition in Riga in 1886, and others were presented.

Ivan Aivazovsky (1817-1900) – a Russian artist of Armenian origin, is famous worldwide as a virtuosic master of marine art, already admired by his contemporaries. Nowadays his paintings often become top lots in international auctions.