International Internet Magazine. Baltic States news & analytics
Saturday, 08.08.2020, 09:12
With the Support of Rietumu Bank, a Large Exhibition of Artis Bute Is Held
BC, Riga, 28.07.2020.

Print version
An exhibition of works by the well-known artist and set designer Artis Bute - "ArtIsCool" has opened in the Cesis City exhibition hall in Latvia. This event has been supported by Rietumu Bank and its Charity Fund.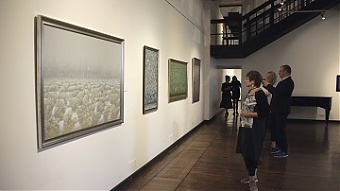 Artis Bute
is one of the brightest and always trendy, also international, artists in contemporary Latvia.
His works have been exhibited in Riga and other major European cities: Vilnius, London, Salzburg, Stockholm. The author's personal exhibitions have been repeatedly held in Russia and other CIS countries, including Moscow, St. Petersburg, Pskov, Baku.
Two genres dominate in the works presented at ArtIsCool – landscape, in its different variations, and still life, where the author presents a very personal and modern interpretation of the classic theme.
According to Artis, "Fashion is changeable, it is often created artificially, while the classic is a constant with invariable added value."
Over the years, the artist has remained faithful to his style, and, as before, he is not afraid to experiment: to combine colours such as ochre, mother-of-pearl, purple and ultramarine, departing from the traditional canons of the classical school.
According to critics, the use of these techniques gives the canvasses a special decorative effect characteristic of Viennese Art Nouveau.
Along with his classical art education, Artis Bute has a stage designer diploma from the Latvian Academy of Arts and has been working successfully in this "second" speciality. The author considers Chekhov's "The Seagull" at the Liepaja Theatre to be his best work in the field of scenography – for this work he was awarded the prize for the best stage design of a performance in Latvia and the Baltics.
The exhibition of Artis Bute in Cesis will be held until 6 September.