International Internet Magazine. Baltic States news & analytics
Saturday, 08.08.2020, 09:10
Rietumu Supports New Black Stork Conservation Project
BC, Riga, 13.07.2020.

Print version
During this summer and autumn, Rietumu Bank's Charity Fund continues to cooperate with the Latvian Ornithological Society for the purpose of preserving the black stork population.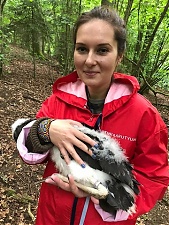 The number of these rare birds, whose lifestyle is still poorly understood, is gradually declining. According to scientists, this is taking place due to increasing environmental pollution and clearing forests where black storks build their nests.
It should be noted that Latvia, with its large forests and low human population density, is one of the principal European territories where these rare birds come to raise their chicks in spring, after which, in autumn they return to the warmer regions of Africa and Asia.
Ornithologists carefully study the behaviour of black storks, ring them, help protect their nests, monitor the hatching and growth of the chicks, conduct chemical analyses, as well as seek to identify and eliminate factors that affect breeding success. In addition, cameras, which are placed by ornithologists and regularly record the behaviour of birds and current events, are always located near black stork nests. For the second year running, Rietumu Bank's Charity Fund has been helping Latvian specialists in all of this.
"Excellent ornithologists and some of Europe's best bird watchers work in our country. Throughout Europe, the behaviour of black storks is only studied by a few specialists, and we can freely say that most of the knowledge about the behaviour of these birds was obtained here, in Latvia. I believe that such projects should be looked at broadly, in the context of nature conservation, and therefore, in the context of preserving our future. This is why it is very important to support these projects at appropriate times," says Jelena Buraja, Rietumu Bank Board Member.
Rietumu Bank's Charity Fund has allocated 2,500 euros this year to research the population of these birds.