International Internet Magazine. Baltic States news & analytics
Thursday, 09.07.2020, 12:31
Photo contest "Quarantine Dads" was announced by the Swedish Embassy in Latvia
BC, Riga, 04.06.2020.

Print version
The photo contest "Quarantine Dads" was announced by the Swedish Embassy in May 2020 and will be continuing until the end of summer. The aim of the contest is to collect stories of how fathers in Latvia experience the time of physical isolation together with their children.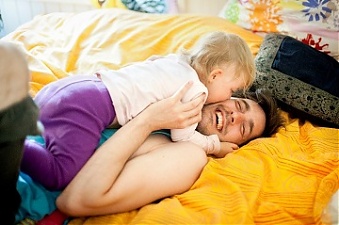 The Embassy collects the photos and videos sent by Latvian dads and publishes them on the website https://quarantinedadslatvia.lv/, where the visitors of the website can vote for their favourite Quarantine Dad. At the end of the contest, the winner will be announced in September and will receive a prize from the Embassy. All the participants, who shared their stories, will be invited to an event organized by the Embassy. The type of the event will depend on the gathering restrictions in place in autumn.The time of pandemic has influenced everyone to a larger or smaller extent, however, families with children have been particularly affected. Some parents began to work remotely, some became unemployed, while their children took upon a new challenge – studies from home. Spending more time together with a family is something that we are always longing for in our busy schedules during "normal times". However, being at home during the pandemic with multiple restrictions and many responsibilities, has turned out to be quite a challenge for many of us.
The contest is also a continuation of two previous photo exhibitions about Swedish and Latvian dads, which aimed to raise awareness about the important role that fathers play in the upbringing of their children. Therefore, this contest specifically focuses on fathers and their experiences with children in these difficult times.
Sweden is known for having one of the most generous parental leave systems in the world, introduced in 1974. Parents in Sweden are entitled to 480 days of paid parental leave when a child is born or adopted. Each parent is entitled to 240 of the 480 days of paid parental leave, and each parent has 90 days reserved exclusively for him or her. If one of the parents decide not to take them, they can't be transferred to the partner. The purpose of this allocation is not only to promote gender equality, but is also about maximizing the potential of the workforce and, by extension, increasing the country's growth. In spite of this generous allowance, only a fraction of Sweden's fathers use all their days of parental leave. Now, 45 years after introducing the system, fathers use an average of 30 percent of the total parental leave days - a figure the government hopes to improve.
The contest "Quarantine Dads ", therefore, encourages fathers to reflect on the moments spent with their children and share with us their experience of keeping children busy in these special times. You can still participate in the competition by sending a photo or a video to the Swedish Embassy's email: ambassaden.riga@gov.se, describing your experience in a few sentences!