International Internet Magazine. Baltic States news & analytics
Monday, 21.09.2020, 06:58
Latvian PM and FinMin don't confirm information on ECB's warning
BC, Riga, 26.03.2013.

Print version
Latvian Prime Minister Valdis Dombrovskis (Unity) cannot confirm that the European Central Bank has warned Latvia against taking in Russian money flowing away from Cyprus, writes LETA.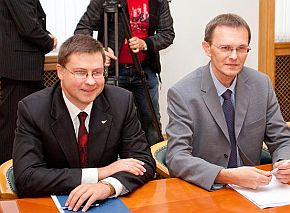 Valdis Dombrovskis and Andris Vilks.
Dombrovskis emphasizes that he does not have such information and he has also discussed the matter with Finance Minister Andris Vilks (Unity).
The prime minister points out that the Bank of Latvia and the Finance Ministry are explaining the European Commission and the European Central Bank the differences between Latvia and Cyprus. The financial sector plays a much greater role in Cyprus than in Latvia. Latvia cannot be considered a financial center to the same extent as Cyprus or Ireland, adds the premier.
Commenting non-resident deposits at Latvian banks, Dombrovskis reminds that Latvian banks face much stricter capital adequacy and liquidity requirements in the non-resident sector. He does not predict a considerable influx of non-resident money from Cyprus.
The recent information about the European Central Bank warning Latvia against taking in Russian money fleeing Cyprus is a rumor, says the Finance Ministry.
The Finance Ministry does not confirm receiving such signals from the European Central Bank.
The Latvian financial sector has higher capital liquidity requirements than the elsewhere in the EU and strict supervisory mechanisms. In addition, there is a set of special measures for supervising non-resident deposit flows, emphasizes the ministry's spokesman Aleksis Jarockis.
The Finance Ministry points out that Latvian banks and their supervisor must continue to focus on the management of proactive risks.
According to the ministry, the Latvian requirements for assessing non-resident clients are very high. Latvia's regulations match international standards, as recognized by the Moneyval Committee of the Council of Europe.
As reported, European Central Bank officials have contacted Latvia, another European Union country that has received large Russian deposits, to warn authorities against taking in Russian money fleeing Cyprus, two sources familiar with the contacts said, as the REUTERS news agency reports.
"It was made clear to our Latvian friends that if they want to join the euro, they should not provide a haven for Russian money exiting Cyprus," a eurozone central banker said.