International Internet Magazine. Baltic States news & analytics
Thursday, 21.10.2021, 20:34
Criminal process started against ex-director of Latvian Patent Office
Alla Petrova, BC, Riga, 29.09.2011.

Print version
On September 27, the State Police launched a criminal process against the former director of the Latvian Patent Office, Zigrids Aumeisters, who, possibly, had double accounting and hid more than LVL 1 million in German and Swiss bank accounts.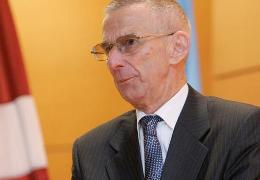 Zigrids Aumeisters.
State Police spokesperson Andis Rinkevics told LETA that the criminal process against Aumeisters was launched on intentionally exceeding the limits of rights and authority granted to the state official by law if substantial harm is caused thereby to the state, administrative order or rights and interests protected by law of a person.
If convicted, Aumeisters could be sentenced to up to three years in prison, community service, or a fine in the amount of up to 100 minimum monthly wages.
Only Aumeisters knew about the secret accounts. When Reinis Berzins became the office's new director, he found out that he does not have the access to these accounts. At the same time, Aumeisters, who has been retired for a year, can still operate with them, the TV3 broadcast "Neka personiga" (Nothing Personal) reported on September 25.
For nearly ten years, the World Intellectual Property Organization and the European Patent Organization have been transferring the funding for international brand and patent servicing to two German and Swiss bank accounts instead of the State Treasury.
The Swiss account was opened in 1999, the German – in 2005. The secret accounts contain more than LVL 1 million – CHF 1,382,912 and EUR 614,273.
Berzins and the Justice Ministry believe that this is an unprecedented violation. The law stipulates that the funding must be kept by the State Treasury. "Neka personiga" points out that the accounts were hidden from the authorities on purpose.
"It is a complete violation of the Law on Budget and Financial Governance. The state's money must be kept by the State Treasury. In regard to the recent findings, we have already turned to the State Police and requested to launch a criminal process against Aumeisters, "Neka personiga" was informed by Justice Minister Aigars Stokenbergs (Unity).
Aumeisters declined to meet with "Neka personiga" for health issues. The former director believes that he has not violated the law and was hiding the funding, as it was necessary for the office's business trips and IT improvements. The state funding was insufficient. Aumeisters also added that he has not touched the accounts since his retirement.