International Internet Magazine. Baltic States news & analytics
Sunday, 07.03.2021, 19:38
Savickis: Gazprom, Itera, Fortum turn down E.ON Ruhrgas proposal to jointly sell Eesti Gaas
BC, Riga, 13.11.2013.

Print version
Russia's Gazprom, Finland's Fortum Heat and Gas OY and Latvian company Itera Latvija have turned down a proposal by German company E.ON Ruhrgas International GmbH to jointly sell Estonian natural gas supply company Eesti Gaas to an international fund, as Itera Latvija head Juris Savickis said in an interview with Latvian State Television yesterday, writes LETA.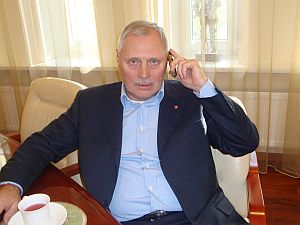 Juris Savickis. BC's photo.
E.ON Ruhrgas, which has decided to leave the Baltic market, offered its partners in the Eesti Gaas company to jointly sell their shares to an international fund, said Savickis. The fund is not associated with Russia, he added.
Gazprom, Itera Latvija and Fortum Heat and Gas OY turned the offer down.
According to Savickis, no such proposals have been made regarding the Latvian gas supply company Latvijas gaze, which also belongs to Gazprom, Itera Latvija and E.ON Ruhrgas.
As reported, Economy Minister Daniels Pavluts has told the Nozare.lv business portal that the government has considered the theoretical possibility that E.ON Ruhrgas International GmbH could decide to sell its shares in Latvijas Gaze.
The speculation has been around for quite some time, but no official confirmation has been received as yet from Latvijas Gaze or the German shareholder about the matter, said Pavluts.
The government has been acquainted with the information, and the possible actions have been considered in this regard, said Pavluts. He declined to further comment on the matter, saying that, first, it was confidential information and, second, the German company has not officially confirmed its intention to sell its Latvijas Gaze shares.
Should it really come to this, the government will have a plan of action, said Pavluts.
Latvian State Television previously reported that the German company was planning to sell its stake in Latvijas Gaze and to withdraw from the Baltic market altogether. In Latvia, the state has the right of first refusal on Latvijas Gaze shares. The German company itself refused to comment on the speculation to the television.
E.ON Ruhrgas International GmbH owns 47.2% of Latvijas Gaze shares, Russia's Gazprom has a 34% stake and Itera Latvija 16%.
Latvijas Gaze posted LVL 22.9 million in profit and LVL 427.4 million in turnover last year.