International Internet Magazine. Baltic States news & analytics
Tuesday, 21.05.2019, 14:01
M&A in the Insurance Industry of the Baltic States. Leading International Groups and Local Players
Exclusively for "The Baltic Course", By Maxim Samorukov, analyst of Russian Polis, 22.10.2008.

Print version
The Baltic insurance market, unlike markets in other CEE countries, has not treated the leading international insurance groups very well. And, the reverse applies, as well: insurers finding success in the Baltic (primarily those from Northern Europe) have so far refrained from expansion into other CEE regions. It's difficult to say whether this peculiar phenomenon is rooted in the Baltic mentality, history or specific economic conditions, but it certainly results in similarities in the insurance M&A markets of Estonia, Latvia and Lithuania. It also makes them much different from the rest of post-communist Europe. This arcticle represents some results of the analytical report "Mergers and Acquisitions in the Baltic Insurance Sector in 2002-2008" prepared by Russian Polis Information Group, which would be available in the beginning of 2009.
Over the past decade, the Baltic states (sometimes referred to as 'the Baltic tigers') have been the fastest developing economies in Europe. Surges in demand, both domestic and foreign, combined with a massive influx of foreign capital (including EU structural funding) kicked GDP growth rates up to double-digit figures. The Baltic insurance industry was a direct beneficiary of this economic miracle. In 2002-2007, the local insurance market more than doubled in volume. While the non-life sector more or less kept pace with the overall economy, life insurance experienced an all out boom, with unit-linked products becoming one of the most popular savings strategies for the Balts. No wonder the tiny Baltic states managed to steal the limelight from major insurers in neighboring counties.
Non-Life Government Monopolies
In the emerging insurance markets of the Baltic states, there's no question that the most desirable (if not the only) acquisition targets for foreigners were the remnants of former government insurance monopolies, which inherited extensive branch networks and client bases from Soviet-era Gosstrakh. As in most other post-communist economies, the former state monopolies in the Baltic were privatized and sold to foreign investors (or, as in Lithuania, privatized directly to foreigners). Time has shown that these were indeed valuable assets worth purchasing. The Baltic insurance industry was deregulated and opened to competition nearly 20 years ago, but those firms that acquired parts of former state monopolies, still rank among the market leaders.
In Estonia, for example, Finnish insurer Sampo acquired the non-life business of the former monopoly as early as 1999, and since then has remained the undisputed leader in the segment, controlling about one third of the market. In the same year, British Royal&Sun Alliance, through its Danish subsidiary, Codan, took part in the privatisation of Lithuania's state insurer, Lietuvos Draudimas. After gaining control of the company, RSA sold minor shares to EBRD and EBRD's affiliated entity, Investment Fund for Central and Eastern Europe, while retaining the majority stake for itself. RSA employed the same scheme in Latvia two years later, in 2001, although this time the British group purchased former monopoly Balta from private owners. The temporary alliance with EBRD ended in 2006, when RSA bought back the minority shares and assumed sole owner of both companies. Currently, RSA remains one of the largest non-life insurers in both countries. In Lithuania, its primacy (more than a third of the non-life market in 2007) is unchallenged, but in Latvia, it faces fierce competition from the local BTA insurance group, losing first place in premium volume in 2007, yet retaining a substantial 20.1% share of the non-life insurance market.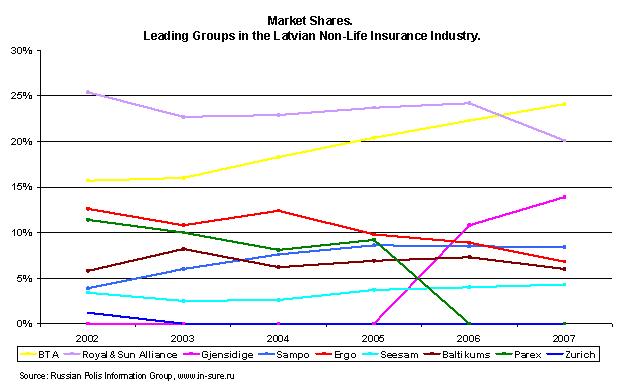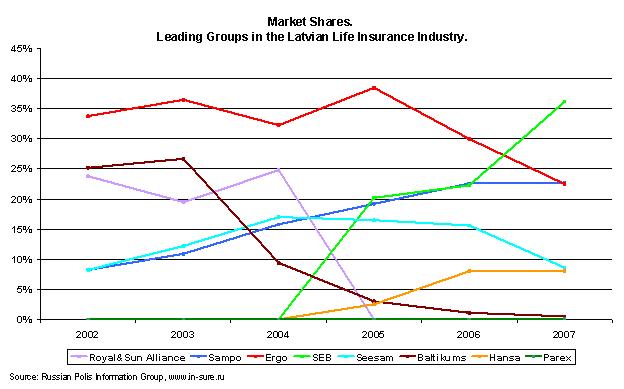 Government Life Monopolies
The fate of the life segments of former state monopolies has, to a large extent, determined the alignment of forces in the Baltic life insurance market. Foremost in this regard are the positions of the two major competitors, Swedbank (Hansa) and SEB, both from Sweden. These banks entered the Baltic life insurance market almost simultaneously. SEB established its position in greenfields (Estonia in 1998 and Lithuania in 1999), while Swedbank preferred acquisitions. In 1998, the latter bought Estonian Hoiupank, owner of the former state insurance monopoly, and then sold just the non-life unit of the newly acquired insurance business to Sampo. In 2003, Swedbank continued its pursuit of former life monopolies, acquiring one such in Lithuania from Royal&Sun Alliance. In 2005, both Swedish banks finally turned their attention to Latvia. There, SEB acted quickly, buying a former state life insurer from RSA, while Swedbank entered the market by establishing a branch office.
The Baltic life markets took shape accordingly. Swedbank is the leader in Estonia and Lithuania, with market shares of 45.2% and 46.7%, respectively, but lags behind in Latvia, where it accounts for a mere 8.0% of the life market. Conversely, SEB is number one is Latvia (36.2%), but trails in Estonia and Lithuania (29.5% and 28.9%, respectively). It is worth noting, however, that the Latvian life insurance market is 2.5 times smaller than the Estonian, and four times smaller than the Lithuanian.
Russians' Defeat
Another remnant of the Soviet legacy is the shares Russian insurer Ingosstrakh held in most of the Baltic insurance companies. The fate of these assets has, however, turned out to be somewhat pathetic. In 2005, Ingosstrakh's subsidiary in Lithuania went bankrupt, accompanied by unconfirmed rumours that politics were involved. After the bankruptcy filing, Ingosstrakh officials announced that the Baltic states were not among the group's priority markets, unlike other parts of the former USSR. The Russian insurers proved true to their word, summarily dumping their insurance assets in the region. In 2006, the group sold its minority share in Latvian Balva to another local insurer, Nordens. No surprise that Balva itself was at the same time a major owner of Nordens. Both companies were later merged to form an important player in the Latvian non-life market, with a 9.1% share in the total non-life premiums in 2007. In 2007, Ingosstrakh left the Baltic entirely, selling its minority stake in the small Estonian insurer, Inges, to the majority owner, Unix-V. Inges is the last domestically owned insurer in Estonia, and, at the same time, one of the smallest players in the industry.
Attempts by another large Russian insurer, RESO-Garantia, to conquer the Baltic market have come to an ignominious end. In 2003, RESO bought a small Lithuanian insurer, Snoro Garantas, from its close business partners, who owned Snoras bank, and planned to use it as a foothold to enter other Baltic, and even European markets (the acquisition took place on the eve of the Lithuania's accession to the European Union). RESO-Garantia's ambitious plans did not come to fruition, however. For years, the company struggled and was sold in early 2008 to Norwegian insurer Gjensidige.
Lithuania was also viewed by the Poles as an ideal start for European expansion. The largest Polish insurer, PZU, bought up as many as four Lithuanian insurance companies: two insurers Lindra in 2002, and two more insurers Nord/LB in 2005. The aggregate market shares of the four companies in 2005 was 12.4%, but, PZU then began the process of integration and rebranding, hoping to benefit from a synergistic effect. The market share of PZU Lietuva, however, began to decline and fell to 9.1% in 2007.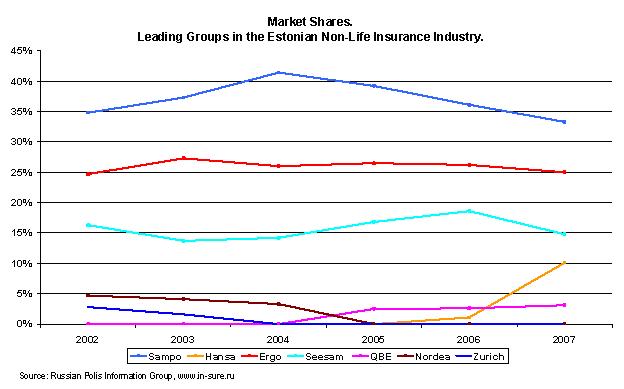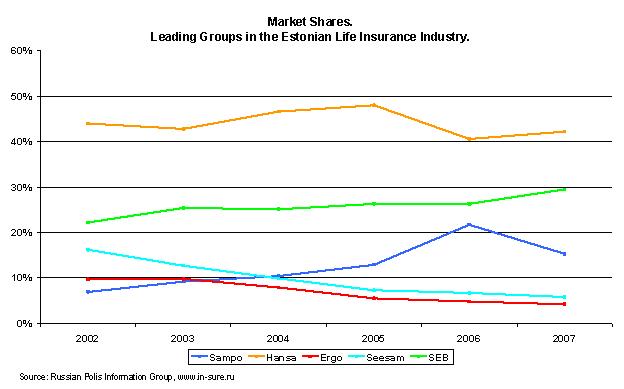 Local Players
Two of the Baltic states are currently suffering an acute shortage of domestically owned insurers. Estonia has only one remaining (Inges, with market share below 1%), while Lithuania has a few locally owned companies, but their market shares are also less than 1%. In Latvia, on the other hand, the situation is fundamentally different. As many as three Latvian insurance groups (BTA, Parekss and Baltikums), in addition to their domestic operations, actively pursue international expansion, as well - at least in the Baltic region.
At the moment, however, only the BTA group can be considered a success story. BTA was created in 1993 by several Latvian transport companies and is currently controlled by the Dandzbergs family. In 2007, it passed RSA's Balta to become the leading insurer in Latvia, with a market share of 19.6%. Such a situation, wherein a company controlled neither by foreign investors, nor by the state, becomes a market leader, is almost unique for CEE markets. BTA showed remarkable acumen in its international expansion. In 2002, it acquired the small Lithuanian insurer, LTB Draudimas, whose local, non-life market share was just 1.3%. Within five years, BTA Draudimas (the former LTB) had become one of the leading non-life insurers in Lithuania, with an 11.6% market share in the sector. BTA also operates in Estonia through a branch office established in 2006.
Another Latvian financial group, Parekss, once a highly influential player in the insurance sector as the fourth largest insurer in Latvia, also owned a small Lithuanian non-life insurer, Baltic Polis, which it acquired in the mid-nineties. Both companies, however, were sold in 2006 to the Norwegian insurance group, Gjensidige, which is involved in massive expansion into the Baltic non-life insurance market. In addition to establishing branch offices in Estonia and Lithuania, it purchased two non-life insurers from Parekss in 2006 and acquired RESO's subsidiary, RESO Europa, in 2008. Parekss switched its focus to life insurance in 2007, establishing a new life insurer, Parex Dziviba, in Latvia.
Baltikum's insurance operations in the region appear close to collapse. Its market share in Latvia is stagnant at about 6% in the non-life sector, while its life share plummeted from 25.2% to 0.5% in 2002-2007. Baltikums' Lithuanian subsidiary filed for bankruptcy early in 2008.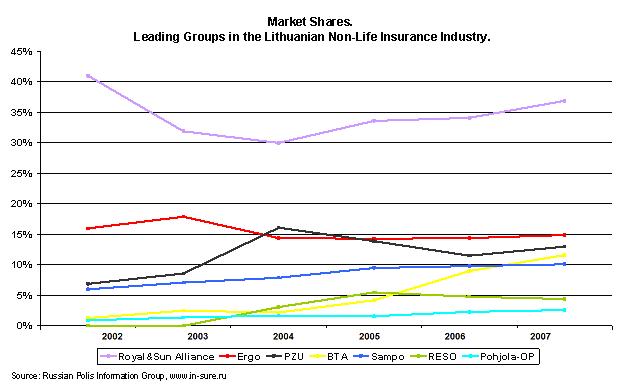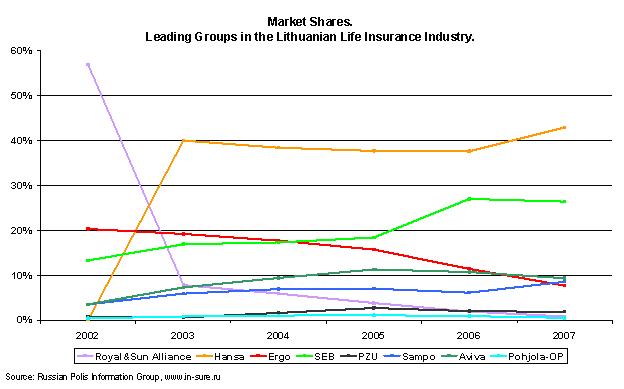 International Giants
The leading international insurance players so far seem to be cautiously scouting the Baltic markets, while avoiding any major expansion. In the early nineties, AIG co-founded the Seesam insurance group, while owning 40-49% in three non-life insurers writing business in the three Baltic countries. In 2004, AIG sold its shares to the majority owner, Finnish Pohjola group, and cut back its business operations to two small life insurance branches in Lithuania and Latvia.
Allianz, the largest international insurance group in CEE, maintains a rather modest presence in the Baltic region. In 2000, its credit insurance subsidiary, Euler Hermes, acquired 49% of the specialized credit insurer, Lietuvos Draudimo Kreditu Draudimas, from RSA, and gained majority ownership in 2003. In 2007, however, it was consolidated with Euler Hermes' Lithuanian branch office. Eurler Hermes also has branch offices in Latvia and Lithuania. Allianz' experience was similar in some respects to that of specialized trade risks insurer Coface. In 2005, Coface bought Lietuvos Eksporto ir Importo Draudimas (a Lithuanian insurer specialising in the same area) during the privatization process, and the following year, combined the company with its Lithuanian branch office.
ING also has an implicit presence in the Baltic insurance industry. In 2004, Amber Trust (affiliated with ING) bought a 45% stake in a small Estonian insurer, Salva, with the shares later being transferred to ING Bank Luxembourg. In 2006, the same bank purchased a 49% stake in Latvian insurer Baltijas Apdrosinasanas Nams. In both cases, ING is a minority shareholder and has not taken any steps to acquire the major stake. Moreover, both insurers, as market outsiders, can hardly be viewed as serious players. For those reasons, ING's motives in these investments are indeed unclear. A similar mystery surrounds QBE's acquisition of Nordicum Insurance from Nordea in Estonia. The change in ownership by no means improved the company's market position. It remains one of the smallest insurers in the country, with a market share of only about 2%.
This general trend may be overcome by VIG. After conquering most of the CEE countries, VIG turned its attention to the Baltic area, and in early 2008, finalized the acquisition of Seesam Life (the consolidation of three Seesam life insurers operating in Estonia, Latvia and Lithuania). Although the company is still relatively small, VIG has a reputation for devouring new markets.
Conclusion
This year has a good chance of becoming a critical period for the Baltic insurance industry. The world financial crisis, combined with local economic disparities, are already affecting the development of the insurance sector. Preliminary results from the first half of 2008 support that assessment. Even the leading insurers, especially in the life sector, are likely to experience major sales declines. Thus, by the end of 2008, we may be seeing a significant realignment of forces, accompanied by a new wave of mergers and acquisitions.