International Internet Magazine. Baltic States news & analytics
Tuesday, 16.07.2019, 13:52
Latvian PM: 2 LitPol Links would be best option for synchronization
BC, Riga, 04.06.2018.

Print version
Two LitPol Links between Poland and Lithuania would be the best synchronization solution for the Baltic states' power grids, Latvian Prime Minister Maris Kucinskis said during a meeting with the Baltic premiers and the Polish foreign minister, reports LETA.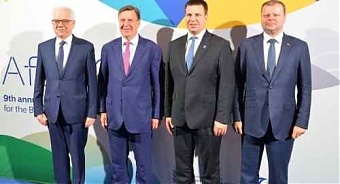 Photo: mk.gov.lv
During the discussion on energy, Kucinskis indicated that the Baltic power grids'' synchronization with the European networks is a vital project for Latvia and the entire region which will strengthen the Baltic states' energy security and significantly contribute to the creation of the European Energy Union. The Latvian premier also underlined the need to choose a synchronization solution the costs of which could be explained to the consumers.
"Results of the dynamic and frequency analysis provide a serious basis to assume that the best solution, taking into consideration also the security of power supply, would be an AC-power line between Poland and Lithuania. The studies also show that in case of other scenarios operating costs would grow significantly, which cannot be a long-term solution. It is also clear that we need to work together to ensure a safe and sustainable synchronization of the Baltic states' power grids with the European networks without a delay," the Latvian prime minister said.
Estonian Prime Minister Juri Ratas said after Monday's meeting that he expects a political agreement on the synchronization of the Baltic power system with the European grid to be reached in time for the EU summit at the end of this month.
"We need to agree, with experts' aid, on a solution which is the best technically, which will not bring with it additional permanent expenses, which will hedge risks and ensure a high level of security of supply for our consumers," Ratas said after the meeting.
Three different options are being looked at for connecting the Baltic electricity systems with Europe via Poland: two alternating current power lines, one alternating current power line, or one alternating current power line combined with one direct current power interconnection.
The EU summit will take place on June 28-29.
Initially a political agreement on the manner of interconnecting was expected to be reached by June 2017. An agreement has not been reached as Lithuania and Poland maintain that one power link between Lithuania and Poland is enough, whereas Estonia and Latvia have argued that two connections are necessary to ensure security of supply.