International Internet Magazine. Baltic States news & analytics
Sunday, 22.09.2019, 05:37
Latvian Speaker to Ukrainian: Nord Stream II contravenes EU's common energy policy
BC, Riga, 13.12.2017.

Print version
Latvia has been consistently saying that the Nord Stream II natural gas pipeline project contravenes the European Union's (EU) common external energy policy and that it will weaken the bloc's Neighborhood Policy, Saeima Speaker Inara Murniece (National Alliance) said during a meeting with Andriy Parubiy, Speaker of Ukraine's Verkhovna Rada.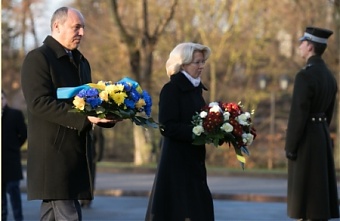 Photo: saeima.lv
LETA was told at the Saeima press office that the Ukrainian parliament speaker voiced concerns about Russia's hybrid threats, including information warfare, which in his opinion are much more dangerous than Russia's military aggression against Ukraine. Nord Stream II is a hybrid threat not only to Ukraine but whole Europe, the Ukrainian politician said.
As reported, the Nord Stream II project is intended to double the capacity of the Russian natural gas connection to Germany by laying more pipelines across the Baltic Seabed.
Ukraine cam always count on Latvia's support, and we will continue to support Ukraine on its reform path, the Saeima speaker said, stressing that Latvia firmly backs Ukraine's sovereignty and territorial integrity. Murniece and Parubiy agreed that the EU sanctions against Russia have to remain in place until full compliance with the Minsk agreements is achieved. The sanctions are a clear message that Russia's actions in Ukraine are unacceptable, the politicians said.
Murniece and Parubiy praised active political dialogue between Latvia and Ukraine, including on the parliamentary level. The Saeima speaker said that the parliamentary group for cooperation with Ukraine is one of the most active cooperation groups in Saeima.
The Saeima speaker also underlined the importance of economic cooperation between the two countries. Notwithstanding the difficult political and economic situation in Ukraine, Latvian entrepreneurs keep doing business there, Murniece said, noting the need to improve Ukraine's business environment.
Murniece praised Ukraine's reform progress, adding that there is still a lot to do, especially in areas like the judiciary, good governance and the prevention of corruption. "We understand very well how difficult it is to carry out reforms, holding a sword in one hand and tools in another," Murniece said.
Parubiy thanked Latvia for firmly supporting Ukraine's European integration efforts. Ukrainian citizens can now travel to the EU without visas and Ukraine's Association Agreement with the EU has come into effect. The Association Agreement's full implementation should be Ukraine's top priority, Murniece said.
Latvia also expects the Ukraine issue to be on the agenda of NATO's upcoming summit in Brussels in 2018, Murniece said.