International Internet Magazine. Baltic States news & analytics
Monday, 27.03.2023, 17:11
European Humanities University to receive Atlantic Council Freedom Award
Danuta Pavilenene, BC, Vilnius, 31.05.2013.

Print version
The European Humanities University (EHU) – the only Belarusian university that has succeeded in maintaining its academic freedom and independence in the face of enormous government pressure – has been named a recipient of an Atlantic Council Freedom Award. The award will be presented at a ceremony in Wroclaw, Poland on June 14th, informed BC Jurga Mečinskienė.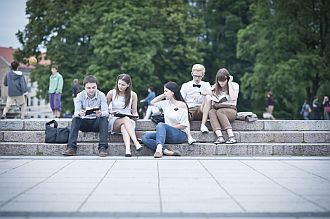 EHU was founded in Minsk in 1992 to reinvigorate teaching and research in the humanities and social sciences and to promote the principles of liberal education in Belarus, including critical thinking, creativity, and personal responsibility.

After standing up against increasingly authoritarian measures that would have severely compromised its academic freedom and independence, EHU was forcibly closed by the Belarusian government in 2004.

Thanks to a wellspring of international donor support and an invitation from the government of neighboring Lithuania, EHU was able to reestablish itself in Vilnius, where it continues to serve Belarusian students and scholars, making it Europe's only university-in-exile.

Today, EHU is the only Belarusian university where Belarusian students and scholars can study and conduct research freely and be active without fear of negative repercussions. The majority of EHU faculty come from Belarus and the majority of EHU alumni reside there, where they apply their skills and knowledge in business, non-profit organizations, and the independent media.

The Atlantic Council is a U.S.-based institution devoted to promoting transatlantic cooperation. The Atlantic Council's Freedom Awards recognize extraordinary individuals and organizations that embody the organization's mission to strengthen the Atlantic community's call to leadership on global values.