International Internet Magazine. Baltic States news & analytics
Thursday, 25.04.2019, 21:27
Sadurskis resigns as education minister to become MEP
BC, Riga, 27.11.2018.

Print version
Karlis Sadurskis (Unity) will resign as Latvian education and science minister to become a member of the European Parliament,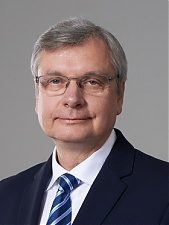 As LETA was told at the Cabinet of Ministers, today's government meeting was the last one Sadurskis attended as education and science minister. He is leaving for Brussels already on Wednesday to take office as a MEP.
Sadurskis is entitled to the mandate in the European Parliament because MEP Artis Pabriks (For Development/For) has been elected to the 13th Saeima. Pabriks was elected to the European Parliament on the Unity ticket and upon returning to Saeima passed his mandate on to the next Unity candidate.
Although the next candidate to take this office in the European Parliament was Ojars Eriks Kalnins (New Unity), he passed it up as he, too, was elected to the 13th Saeima. Meanwhile, Sadurskis' bid to get elected to the Latvian parliament failed.
Sadurskis explained that he had received a notice from the European Parliament's Secretariat General about a European Parliament mandate which he had to either accept or reject. "I believe that in this uncertain situation I have to fulfil the existing mandate – the European Parliament mandate," the outgoing minister said.
Sadurskis noted, however, that his New Unity party has expressed interest in taking charge of the Education and Science Ministry also in Latvia's next government. He said that if New Unity secures the portfolio of education science minster, the portfolio "will be considered". As for the possibility of taking the so-called "soft mandate" in the 13th Saeima in case a parliamentarian becomes a minister, Sadurskis said he had not yet considered such an option.
Sadurskis said that an "extraordinary job" was done on Tuesday as the government approved the new basic education standard and enrollment rules for Latvia's higher education institutions. "One unresolved issue still remains, though - the government regulation for licensing and accreditation" of education institutions, Sadurskis said, adding that this regulation might be adopted in two weeks' time.
"So, one can say that everything that has been written in the government declaration in regard to the Education and Science Ministry has been completed. This government will not come up with new initiatives, including in the sphere of education, as the new government is expected to be formed. I therefore have to fulfil the mandate given to me by the voters - the European Parliament mandate," Sadurskis said.
Finance Minister Dana Reizniece-Ozola (Greens/Farmers), who is currently standing in for Prime Minster Maris Kucinskis (Greens/Farmers), said that Welfare Minister Janis Reirs (Unity) would take over the education and science minister's duties.