International Internet Magazine. Baltic States news & analytics
Wednesday, 16.01.2019, 12:51
The "Baltic Course" in progress: ten years in the world-wide-web
Eugene Eteris/Olga Pavuk , BC, Riga, 22.12.2017.

Print version
It is a pleasure to remind our readers that New Year-2018 marks a vital anniversary: exactly 10 years ago, our international magazine "The Baltic Course" in two languages (English & Russian, being in print since 1996), has been turned world-wide through the global web-network. It's a good occasion to make an account of the progress achieved…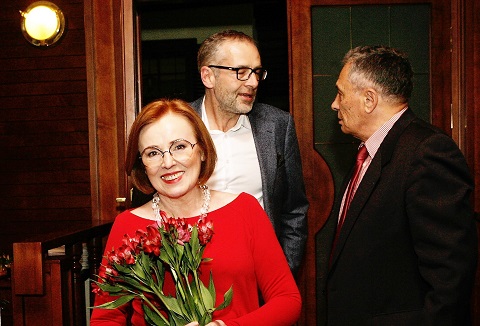 Behind Olga Pavuk are the first publisher of the Baltic Course Janis Domburs and the international editor Eugene Eteris, celebrating the 20th anniversary of the magazine in April 2016.
Just a very first example: the year 2017 has been marked with good progress in expansion of magazine's reading audience. A quantity of hits per month exceeded 100 thousand "visitors", reaching in some months over 110 thousand. More statistics is in the following site:
https://www.similarweb.com/website/baltic-course.com#overview
Besides, the mobile version of our periodical, which has been in the web for just two years, undoubtedly added some youth audiences. Quite notable: about 60 per cent of the magazine's readers are people at the age of up to 45 years. We regard it as a vital resource for our magazine's further progressive development.
When introducing in Google by the key-words Baltic-Course, it shows about 10, 6 million references, which indicates an increase in the public attention to the Baltic Sea Region (e.g. just a year ago this figure was about 6 mln, while two years there were just "small" 1,3 mln.). Our materials are becoming widely used world-wide and many respected Internet- resources make references to our publications. Then, another positive thing, when retrieving information about the Baltic Sea Region through various pertinent users' keywords, the magazine's publications occur on the Google's first page.   
Readers' feed-back
And of course, it is very important what our readers think about our work.
Thus, the users of magazine's portals baltic-course.com in English and Russian languages represent a wide global audience: Google statistics has shown that our magazine's readers are from about 200 states: these are those that are definitely interested, first of all, in socio-economic development in Latvia, Lithuania and Estonia.
Approximately 35% of our web-site's visitors are readers from Latvia; then, about 7 per cent are those from Russia 7%, and about 5-6 percent from such states in Lithuania, the USA and Poland.
Besides, about 10 percent of magazine's readers are using our web-portal in the Facebook; see more about it in:  https://www.facebook.com/BalticCoursecom/
Magazine's "round-tables"
It is worthwhile to remember the magazine's vital analytical work: our international round tables prepared and conducted together with the Baltic International Academy (BIA) and the Diplomatic Economic Club (DEC).
These events usually are gathering experts from different countries to discuss most vital issues concerning economic development in the Baltic Sea Region.
Magazine's chief-editor, Dr. Olga Pavuk has been a permanent moderator at these round-tables; suffice it to mention that since 2006 there were conducted 22 such round-table seminars.  
All round-table materials are collected at the magazines' "round-table" sites at:
http://www.baltic-course.com/rus/kruglij_stol/, as well as in the electronic version at:  
http://www.baltic-course.com/round-tables-2016/index.html   
Besides active work of the magazine's chief editor Dr. econ. O. Pavuk and its international editor Dr. E. Eteris (he is associated with the magazine since 2003 providing the readers under the heading "Modern EU" with most recent information and analytics on the EU economic policies), the magazine's success is also due to other editors: Nina Kolyako (English version) and Galina Molochkova (Russian version).
They are tracing daily events occurring in the countries around the Baltic Sea area as well as surrounding regions, selecting news and analytics of most interesting themes for readers. Due to their extensive work, there are published daily over 50 articles in the magazine.
And certainly, we express our gratitude to all magazine's respected partners: both those working with us for so many years, as well as the new ones; they all make possible our enterprise to survive and develop further on.
We congratulate all our friends and readers with beautiful Christmas and the New 2018 Year: let the New Year be fruitful and successful in every sense for us all!
Russian version of the text is at:
http://www.baltic-course.com/rus/good_for_business/?doc=136172&ins_print