International Internet Magazine. Baltic States news & analytics
Thursday, 27.11.2014, 07:20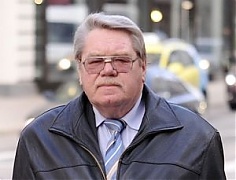 26.11.2014
As retaliation for blacklisting Russian political Konstantin Simonov, Russia could in the near future blacklist a political scientists or official from Latvia in a tit-for-tat move, political observer Karlis Dauksts told LETA.
22.10.2014
Prime Minister Laimdota Straujuma's (Unity) political goal, as the head of the new government, will be to increase the welfare of Latvian families.
03.10.2014
Riga may go bankrupt in one-and-a-half to two years, former Riga Mayor Andris Argalis (For Fatherland and Freedom/LNNK) says in an interview with "Neatkariga", cites LETA.
01.10.2014
On September 30th in Riga, the Embassy of China in Latvia made a reception on the occasion of the 65th National Day of the P.R.C. BC publicizes the speech of the ambassador Yang Guoqian, which was kindly presented by the Embassy's press service.
30.09.2014
Starting from the beginning of 2014, both the EU and Ukraine have been facing many common challenges related to their respective border, energy and defense security.
30.09.2014
Recovery in domestic demand, observed last year and in the first half of 2014, was the result of better expectations of businesses and consumers. Unfortunately, geopolitical tension and uncertainty which growing due to external threats is pushing the expectation curves down, says Indre Genyte-Pikciene, chief analyst of DNB, cites LETA/ELTA.
26.09.2014
It is obvious that Ukraine alone cannot resist Russia, especially because the current crisis affects not so much Ukraine as the entire Europe's security system, which has practically ceased to exist, former Ukrainian Ambassador to the United States Oleg Shamshur said in an interview with LETA.
17.09.2014
The Russian government is laying the groundwork for a Ukrainian scenario in the Baltic countries, arguing that the three are mistreating ethnic Russians, that the West has failed to oppose such actions, and that Moscow is compelled under the circumstances to work to protect these members of "the Russian world," American analyst and expert on Soviet Union matters, Paul Goble warns, cites LETA.
05.09.2014
Address by President H.E. Mr. Islam Karimov at the festive ceremony dedicated to the 23rd anniversary of independence of the Republic of Uzbekistan. It was presented to BC by the Embassy of Uzbekistan in Latvia.
04.09.2014
Press statement of Latvian President Andris Bērziņš after the meeting of the Presidents of the Baltic States with the President of the United States of America in Tallinn on September 3rd. The following is a press release from the President's Press Office.
01.09.2014
Ukraine will never reconcile with the loss of Crimea. Valery Zhovtenko, Ambassador Extraordinary and Plenipotentiary of Ukraine to Lithuania, said in the exclusive interview to ELTA news agency that only negotiation measures will be used to solve the issue of Crimea, cites LETA.