International Internet Magazine. Baltic States news & analytics
Thursday, 22.02.2018, 12:41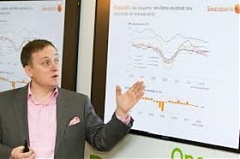 15.02.2018
Swedbank chief economic expert Martins Kazaks in Latvia believes that job market problems usually solve themselves during economic crisis, informs LETA.
18.01.2018
During the last two decades, Lithuania has experienced a very high rate of population mobility, which peaked during the early years of EU membership (2004–2006) and once again during the recent economic and financial crisis (2009–2011). Lithuanian workers took advantage of economic opportunities abroad and made the most of free movement within the EU and EEA.
09.01.2018
Estonia had successfully started its e-resident programme and proudly announced that in such a way Estonia had attracted more than 20,000 non-residents who use the e-resident's status for both aims – as the Estonian electronic signature and the opportunity for firm managers to use the tax and other systems. This meant for the foreign guests also an opportunity to receive the Estonian identity number. This idea, however, in another form, had to be adopted also by Latvia. But it has come to an end.
05.01.2018
It has been almost three decades since Lithuania regained its independence. Nearly half of the time, beginning with 2004, Lithuania has been a member of the European Union and NATO. However, the usual point of reference used to analyse social and economic change has so far been one that described the country as a 'post-soviet society' or 'transition society'.
20.12.2017
Three years ago the European Court of Auditors (ECA) – EU's independent external audit body – warned that the culture of "use it or lose it" has to stop. The rationale behind the statement was that the focus on the use of EU taxpayers' money had been for many years on absorption, not on results. Later, we have repeated the message by saying that "wholly new approach" is needed.
19.12.2017
Meet Irina: Born in Latvia as a non-citizen (former citizen of the Soviet Union), she was 17 when she obtained her Latvian passport: "My mother obtained her Latvian passport on the same day. We were singing the Latvian anthem shoulder to shoulder. A day or two later we went for our first trip abroad. To London!" After a year, once Irina had graduated from the gymnasium, she boarded a plane to the United Kingdom. She even did not stay for her graduation party, so eager she was to study arts in the UK. Now, in her late 20s, Irina lives in London and works as an artist.
18.12.2017
The Baltic Sea is home to one of the most economically dynamic regions in Europe and the world. However, deepening regional integration has been a longstanding issue for the countries that share a coastline of some 8,000 km, on account of their differing economic priorities and political concerns.
06.12.2017
Tightening of the legislative requirements and the required conformity to the compliance procedures will exert a serious influence on the international trade of agricultural products, including grain crops, says Natalja Perhova, Member of the Board of Rietumu Bank. These issues, alongside other topical trends of the industry, were recently discussed at one of the most influential professional world forums - Global Grain in Geneva, informed BC bank's press service.
23.11.2017
Contemporary legislation in the countries of European culture is based on the underlying premise that an individual has a free will and the capacity for the independent decision-making. If the particular human being has such abilities it presupposes an appropriate responsibility for personal misbehaviour. But this admission doesn't function in many preliterate cultures. It is easy to show that these abilities represent the consequences of the very long historical process of the human being and society's development.
22.11.2017
EU and global economies are facing "labour problems": in various states angry workers denounce both a shortage of jobs and low wages. Besides, robots already appear to be a threat to workers being able to replace millions of humans. Another issue is that of the basic income: the idea attracts attention around the world providing potentials for a universal social safety net implementation.
21.11.2017
Sustainable energy development of the city must be based on the plan. The energy actions described in city Sustainable Energy Development Plans (SEAPs) will be difficult to successfully implement without strong support from city leaders and commitment from public and private stakeholders.