International Internet Magazine. Baltic States news & analytics
Monday, 01.09.2014, 14:13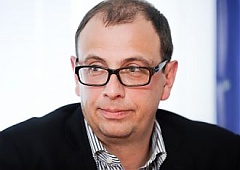 29.08.2014
The number of Russian tourists in Europe has reduced by 30-40% due to the crisis in Ukraine, and this tendency will inevitably affect Latvia as well, CEO of the travel agency Baltic Travel Group Vlads Korjagins told LETA.
07.08.2014
Russian President Vladimir Putin ordered the government Thursday evening to restrict food and agricultural imports from countries that have imposed sanctions against Russia; Estonian Agriculture Minister Ivari Padar said that Estonians are already hardened to Russian sanctions, reports LETA reffering to Postimees Online.
06.08.2014
In an interview to the Latvian Radio program 'Kruspunkta' today, Foreign Minister Edgars Rinkevics (Unity) said that the inclusion of the so-called Donetsk and Luhansk ''republics'' on the terrorist list would be a very strong signal, informs LETA.
05.08.2014
The joint-stock company Pasazieru vilciens (Passenger Train) has to buy new trains by 2016 as the service life of its current rolling stock will expire in 2016, Transport Minister Anrijs Matiss (Unity) said in an interview with the Latvian State Television today, informs LETA.
05.08.2014
Estonian Agriculture Minister Ivari Padar said after his Tuesday meeting with hunters and pig farmers that most likely the African swine plague virus is already in Estonia, informs LETA reffering to pastimes Online.
31.07.2014
Economy Minister Vjaceslavs Dombrovskis (Reform Party) told Latvian Television this morning that there is a real possibility that Russia's response to the EU sanctions in Latvia could affect the food and transit industries, informs NOZARE.LV/LETA.
31.07.2014
Lithuania's Minister of Finance Rimantas Sadzius says that despite lower than expected economic growth, the results show that events taking place around us have had no significant impact on Lithuania's economic situation, informs ELTA/LETA.
30.07.2014
President Andris Berzins believes that the announcement of a next phase of European Union sanctions against Russia was ''inevitable'', informs LETA reffering to the president's press secretary Liga Krapane.
30.07.2014
Estonian Foreign Minister Urmas Paet expressed deep concern that Dutch and Australian experts are still unable to get to the Malaysian aircraft accident site in Eastern Ukraine to do their work, since battle activity goes on in the vicinity, informs LETA reffering to Postimees Online.
29.07.2014
Ambassadors of Member States of the European Union decided in Brussels today to implement the third stage sanctions against Russia for the first time; these are targeting sectors of the economy, informs LETA reffering to Postimees Online.
25.07.2014
According to President Dalia Grybauskaite, Lithuania has offered quite substantial concessions to PKN Orlen, which owns Mazeikiai based petroleum refinery, and this company should assume responsibility for its actions, informs ELTA/LETA.