International Internet Magazine. Baltic States news & analytics
Tuesday, 26.05.2015, 14:39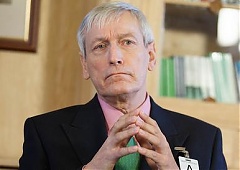 21.05.2015
In an interview with LETA, the former director of the Constitutional Protection Bureau Janis Kazocins said that if Russian President Vladimir Putin loses power, even darker times could fall on Russia.
09.04.2015
Journalist of the British newspaper The Times Roger Boyes confirmed on Thursday that even though the President of Estonia used during the interview to him the term "useful idiots", he did not point out any country, LETA/Public Broadcasting reports.
31.03.2015
Address by Latvian Prime Minister Laimdota Straujuma at the Social Partners' Forum "The Role of Social Dialogue in Ensuring Economic Growth and High Quality Jobs".
25.03.2015
In order for banks to resume lending to the national economy, projects for which financing is requested need to be of better quality, believes Juris Bikis, Director of Latvijas Finieris and Prime Minister Laimdota Straujuma's (Unity) advisor on economic matters, cites LETA.
04.03.2015
In an interview with the Lithuanian news portal Delfi.lt, former Georgian President Mikheil Saakashvili said that, in the event of war, the Baltics lack the strategic advantages held by Ukraine, reports BNS/LETA.
26.02.2015
Today, in Brussels, Latvian Prime Minister Laimdota Straujuma, in addressing the Centre for European Policy Studies at the conference "More or Less Europe", highlighted the key aspects driving current economic, security and geopolitical challenges, reports BC press secretary to the Prime Minister Aiva Rozenberga.
16.02.2015
European Commission's "e-health in focus newsletter" published Interview with Peteris Zilgalvis, Head of Unit Health and Wellbeing in the Commission, in which he underlined the achievements in 2014 and showed main challenges for sustainable healthcare in Europe. Below are listed some of Zilgalvis' opinions on the EU's e-health system.
12.02.2015
Club president Valeri Belokon says he wants to help save Blackpool FC, though he needs assurances from owner Owen Oyston first.
11.02.2015
In a special press conference yesterday, Russian Ambassador to Latvia Alexander Veshnyakov said that even though the military conflict in Ukraine and other unsolved matters have influenced international relations, bridges have not yet been burnt between the European Union, United States and Russia, reports LETA.
26.01.2015
The Baltic States, which have freed themselves from the Soviet rule, can help the West to better understand Russia's problems, says Lilia Shevtsova, researcher at the Carnegie Moscow Center, reports LETA.
16.01.2015
CSR Latvia is CSR Europe's second Baltic national partner. In this interview, Agnese Alksne, Chairwoman of the Board of CSR Latvia, outlines what they as a stakeholder network see as current CSR trends and challenges in Latvia and the Baltics; and comments on the upcoming Latvian EU presidency.