International Internet Magazine. Baltic States news & analytics
Wednesday, 27.01.2021, 21:54
Macron: We are not naive, but we should start dialogue with Russia
BC, Riga , 29.09.2020.

Print version
We are not naive, but we should start a dialogue with Russia in order to find solutions when it is necessary, said French President Emmanual Macron in a press conference during his visit to Riga today, cites LETA.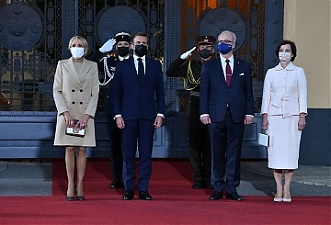 He said that it is necessary to develop a strategic dialogue with Russia. Macron emphasized that dialogue with the neighboring country is not detrimental to European history, stressing the need to look ahead.
He said that he understands Latvia's historical relations with Russia and expressed his understanding that his proposal to start a dialogue with Russia raised questions and comments. Macron also said that the dialogue should be not only strategic but also demanding.
He emphasized that he wanted to expand this strategic dialogue with Russia, while at the same time making sure there was mutual transparency, understanding and guaranteeing Latvia's security.
He mentioned that this dialogue with Russia would help to better combat cyber attacks. Macron pointed out that a "security architecture" must also be created to build a path of trust, but that this will not happen overnight.
The French president also thanked Latvian President Egils Levits for receiving him and said that France also in the future will be Latvia's friend and ally. He emphasized that France stands for those who fight for freedom - Latvia fought for it and continues to do so.
In his address, Macron emphasized that such an official bilateral visit of the presidents of the two countries was taking place for the first time since July 2001, when the President of France Jacques Chirac visited Latvia. Macron said that he had arrived in Riga to compensate for this long moment of emptiness, so that he could get to know Latvia better and explain important elements of European and international politics.
The French president said that he had come to expand multilateral cooperation in the academic, cultural and economic fields.
He also explained that the strong and common history of France and Latvia should not be forgotten, namely, in November 1919 French ships fought with Latvian sailors in the Gulf of Riga to support their desire for freedom, but then French politician Aristide Briand supported the independence of Latvia before the Union of Nations. Former French President Francois Mitterrand, in turn, was the first Western leader to arrive to Latvia to celebrate the country's restoration of independence, Macron said.
The president of France also emphasized that Latvia and France are united by many different ties. He emphasized that Latvia's identity was extremely strong and Macron expressed a wish to get to know it better.
"Latvia has not completely abandoned its true identity and culture upon joining the European Union. I know how important European culture is to you" the president stressed.
Macron emphasized that France was actively participating in the important allied mission with its soldiers in the Baltic States, emphasizing that France was ready to continue to participate in this mission in the long run. He mentioned that before arriving in Riga, he had visited the French soldiers based in Lithuania. He emphasized that the security of the Baltic States within NATO was very important to France.
Turning to the cooperation of France and Latvia in NATO, Macron pointed out that these are two countries that play an important role - countries that have many common values.
At the conclusion of his speech, he emphasized that France is a friend and ally of Latvia, and a reliable partner. "In the changing context of geopolitics, we will be next to Latvia as a member of the European Union, as a NATO ally and as a friend," said Macron.
As reported, French President Macron and his wife Brigitte Macron are on an official visit to Latvia on Tuesday and Wednesday.