International Internet Magazine. Baltic States news & analytics
Wednesday, 18.07.2018, 00:17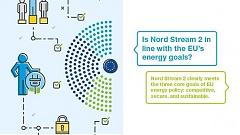 06.07.2018
In my previous article (EU Gas Import Infrastructure – why more is good and why looking at annual utilisation figures alone is wrong) I explained why looking at annual utilisation figures was misleading when looking at usage of import infrastructure, and whether Europe needs more gas import infrastructure. In this article, I will explain why the argument that Europe already has enough import infrastructure is wrong from a market economics standpoint.
15.06.2018
The laws govern the rights, duties and liability within the issuing country. They are binding for all parties implementing their rights or duties in the particular country and such parties are also subject to liability specified there. Consequently, a party is responsible for its activities in the territory of the particular country in accordance with legal regulation of such country.
17.05.2018
Japan and the European Union share a lot of common features as global civilian powers, Tomonori Yoshizaki, departmental director at Japan's National Institute for Defense Studies (NIDS), says, cites LETA/BNS.
09.05.2018
Latvian newspapers «Dienas bizness» and «Segodna» («Сегодня») have published an interview with Rietumu Bank's Chairman of the Board Rolf Fuls.
07.05.2018
Russian energy has divided the transatlantic alliance for over 60 years. Tensions normally just simmer, but they flare up when a new project is proposed, especially after a political crisis. In the 1960s, it was the prospect of increased Soviet oil exports following the Cuban missile crisis. In the 1980s, it was more Soviet gas for Western Europe after the Soviet Union had invaded Afghanistan and martial law had been declared in Poland. Today, it is the proposed Nord Stream 2 gas pipeline after Russia's annexation of Crimea and its war against Ukraine (among other actions).
02.05.2018
The era of Russian transit via Estonia has come to an end, but if the country is successful in making use of the available opportunities it may become a hub for the transit of Chinese goods to Europe, Olga Nezerenko, associate professor of logistics at Mainor business school, has said, cites LETA/BNS.
02.05.2018
In contrast to Ancient India, Egypt and Mesopotamia, Ancient Greece was moving along the path toward the development of a new type of civil political community. More or less equal social interaction and confrontation of different points of view in the Greece of the VI - V. c. B.C. lead to the creation of a new type of intellectual culture which became the keystone of European culture – the ability of reflexive thinking, which implies the capacity to ask questions about the content and meaning of one's activity and the awareness of personal authorship.
25.04.2018
Darius Maikstenas, CEO of state-controlled energy group Lietuvos Energija (Lithuanian Energy), says the company will focus on increasing renewable energy production capacity and the development of new smart power generation until 2030, reports BNS Interview/LETA.
23.04.2018
Some recent articles have created the impression as the Nord Stream 2 pipeline would jeopardize the interests of consumers in EU. This concern is not justified on today's EU gas market, the situation is the opposite.
16.04.2018
Sexual harassment at the European Institute of Gender Equality (EIGE) in Vilnius was more widespread than the few cases of harassment, former foreign employees of the Euorpean Union's (EU) institution told BNS, cites LETA.
07.03.2018
In order for Europe to compete economically but also to remain a relevant, viable partner to China, we need to strategically plan our future cooperation models. Europe has the option to keep doing more of the same and see China fly past in terms of development and innovation. But by being smarter and transforming faster, Europe has the potential to develop exportable concepts as a basis for continued cooperation, trade and sustainable global development.