International Internet Magazine. Baltic States news & analytics
Tuesday, 25.07.2017, 23:47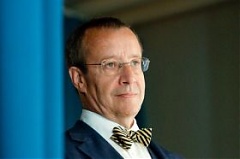 14.07.2017
The current European Union funding mechanisms for business are not suited for supporting contemporary forms of entrepreneurship, former Estonian president Toomas Hendrik Ilves said in an interview, cites LETA/BNS.
15.06.2017
When Estonia, Latvia, Lithuania and Poland requested and received U.S. and NATO military support following Russia's invasion of Ukraine in 2014, it garnered massive attention – and rightly so. The measured response to Russian aggression, which supplemented on-going training, exercises, and Baltic Air Policing, demonstrated U.S. commitment to the region's security and stability, and helped to ease the increasing anxiety resulting from Russia's actions. As important as this was, defense cooperation is but one facet of U.S. engagement in the Baltic region. Equally important are the commercial, scientific, education, and other ties that round out one of the most dynamic sets of relations the United States has anywhere in the world.
15.06.2017
The country's banking sector operates profitably and is resilient to potential shocks. Lithuania's lending growth is one of the highest in Europe and, if the real estate (RE) market and credit growth rates remain at present levels or increase further, risk to stability may increase over the next few years.
15.06.2017
As expected, annual inflation rate decreased in May (to 2.8%). This was the first decrease in nine months. In the coming months, inflation will be positively affected by a gradual appreciation of services and negatively by oil price dynamics.
13.06.2017
On 12 May 2017, in Kyrgyzstan, without giving a prior notice to the attorneys, a confidential court hearing was called and during a few hours, the judgment was issued in absentia and conviction was handed down against the following citizens of the Republic of Latvia - the former shareholder of Manas Bank Valeri Belokon and former executives of Manas Bank Jevgenijs Verbickis, Anita Lase and Yuri Kachnov. They were sentenced to serve 20-years custodial service, and property forfeiture (confiscation) was ordered.
12.06.2017
Since gaining sovereignty and independence a quarter of the century ago Belarus has made wide strides in its political, social and economic development against very heavy internal and external odds.
09.06.2017
he immediate impact of the higher oil price on consumer prices has eased. Faster GDP growth will encourage inflation this year in Estonia and in the other countries of the euro area. Inflation will remain high until the end of the year
09.06.2017
Two days ago a delegate of the Latvian language office came to Gelato Italia. I got a fine for not speaking Latvian.
02.06.2017
Economic growth in Latvia is gathering momentum, and in the first quarter gross domestic product (GDP) grew by 4% year-on-year (at constant prices; according to both seasonally adjusted and unadjusted data). Consequently, Latvia is presently recording the fastest pace of growth over last five years.
02.06.2017
In 2016, banks and other lending institutions granted almost 400 thousand new loans. Even though borrowing is picking up steam, resident loan burden is constantly reducing – they allocate an increasingly smaller share of income for loan repayment.
01.06.2017
Speech at the plenary session of the European Parliament in Brussels about non-citizens who once again will not be able to vote in local government elections on June 3.