International Internet Magazine. Baltic States news & analytics
Sunday, 28.05.2017, 19:38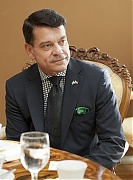 24.05.2017
The bill adopted by the Saeima last week, providing for harsher state language requirements for foreigners who buy farmland in Latvia, will negatively affect Latvia's further development, said Swedish Ambassador to Latvia Henrik Landerholm in an interview with LETA.
16.05.2017
Our outlook for the Baltic countries' banking system is positive1 , compared with the stable outlook that has prevailed since 2015. This reflects our expectation that a supportive macroeconomic environment will improve banks' asset quality and support healthy loan growth across the system over the next 12 to 18 months. The positive momentum will be particularly supportive of domestic banks as, in addition to positive economic conditions, tighter regulatory requirements will encourage them to increase headroom above minimum capital requirements and reduce their reliance on volatile non-resident deposits. »
16.05.2017
In April, the annual inflation rate remained unchanged (3.4%), marking the first time in eight months without climbing inflation.
15.05.2017
The overheating real estate market in Sweden poses a risk to Swedish-capital banks in Lithuania, Stefan Ingves, governor of Sweden's central bank Riksbank, says to LETA/BNS adding that collapse of real estate prices would cause problems for the entire Nordic and Baltic region.
12.05.2017
In the first quarter of 2017, goods exports posted a substantial increase, 10.1%, making a positive contribution to economic growth at the beginning of this year.
11.05.2017
At the end of the first quarter, manufacturing has once again posted growth. Thus, in the first quarter of 2017, manufacturing output increased by 6.7% year-on-year, which is a very good result and a crucial contribution to accelerating gross domestic product (GDP) growth.
11.05.2017
Inflation passed 3% in April. Prices for commodities have shown signs of rising more slowly on world markets in recent months.
10.05.2017
The article was written summarizing the results of speech at 30th Baltic Criminological Conference held in the capital of Latvia, Riga on April 28-29.
08.05.2017
A generation of businessmen has grown up in Latvia that has been used to receiving assistance, including through the EU funds, EY consultancy partner Andris Laucins said LETA.
06.05.2017
The Energy Union, an 'umbrella strategy' launched two years ago by the European Commission, was initially aimed at insuring Europe's smooth transition to the low-carbon/non-carbon future. The plan was to ensure that European citizens have unrestricted access to secure, affordable/competitive and climate-friendly energy sources.
03.05.2017
Lithuania's economic growth has accelerated. Due to favourable conditions in the beginning of the year, Lithuania's economy in 2017 will grow faster than in the previous year, while the positive output gap will gradually increase. In the presence of such economic development, the pressure to increase wages and prices will persist. Without investment into higher productivity, the spiral of growing wages and prices in the future might decrease the competitiveness of Lithuanian companies, limiting economic development as well.