International Internet Magazine. Baltic States news & analytics
Monday, 25.09.2017, 23:34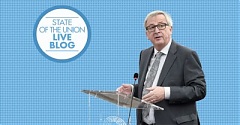 14.09.2017
European Commission President Jean-Claude Juncker in his State of the Union Address-2017 (SOTUA-17) before the members of the European Parliament presented the yearly's outcomes and EU's priorities for the year ahead. His speech was accompanied by the adoption of a number of concrete Commission's initiatives (on trade, investments, cybersecurity, industry, etc.) outlining a vision of EU that "protects, empowers and defends".
20.08.2017
August 20th is the day when the Estonian people's audacity coincided with a great historical opportunity. A time when the Estonian people were of one mind and able to take advantage of this opportunity.
18.08.2017
The labour force survey data received today are not surprising: unemployment in Latvia continues to drop. At 8.9%, unemployment rate is the lowest since 2008 and lower than Latvia's historical average. It is also slightly lower than the current euro area average. Moreover, unemployment may have even dropped slightly below the natural rate (Fig. 1).
18.08.2017
Relations between Latvia and Russia are not easy but it is a diplomat's mission to talk and seek common ground, Latvian ambassador-designate to Russia Maris Riekstins said in an interview with LNT commercial TV channel this morning, cites LETA.
08.08.2017
Supported by external markets, manufacturing grew fast in the first six months of the year, providing a stable support for growth of gross domestic product (GDP). The greatest contribution to growth was made by the high technology branches in which practically all of the output is exported.
03.08.2017
In the last couple of quarters, the Latvian economy grew at rates well above those seen in the recent past. Cyclical recovery is observed not only in Latvia, but throughout Europe. In many countries and trade partners, growth is faster than forecast.
03.08.2017
According to Swedbank's chief economist Tonu Mertsina, the euro becoming stronger does not have a strong impact on Estonia's foreign trade and the economy, writes LETA/BNS.
14.07.2017
The current European Union funding mechanisms for business are not suited for supporting contemporary forms of entrepreneurship, former Estonian president Toomas Hendrik Ilves said in an interview, cites LETA/BNS.
28.06.2017
The development of Helsinki–Tallinn cooperation has long been a subject of study in official working groups. But in practice, people have already voted with their feet: the cities are already one extensive urban area. In 2016, the Gulf of Finland was crossed almost 9 mln times. Breakfast in Helsinki and lunch in Tallinn. Shopping in both. Museum visits. Such is everyday life in an extensive urban cluster - cheerful cultural relations.
27.06.2017
The state of Latvian banks' internal control systems has proved disappointing in previous years, Peteris Putnins, chairman of the Financial and Capital Market Commission (FCMC), told journalists today as he commented the fining of three Latvian banks for their involvement in circumventing sanctions against North Korea.
26.06.2017
In May, the news came from Kyrgyzstan stating that four Latvian citizens were sentenced to 20 years each in prison. Such a tough punishment was also determined for Valeri Belokon. It should be immediately emphasized that the Latvian citizens are not actually imprisoned. The court issued the default judgment (a judgment given in default of appearance in a civil action linked to criminal proceedings). What this all is about? And how does this story has emerged?