International Internet Magazine. Baltic States news & analytics
Wednesday, 22.05.2019, 22:14
American-Latvian doctor Slucis calls President Berzins a "Russified, Soviet-minded person, who is helping Harmony Center"
Nina Kolyako, BC, Riga, 12.01.2012.

Print version
American-Latvian doctor Aivars Slucis has once again published a paid-for announcement in several Latvian newspapers, calling President Andris Berzins an "old Soviet-minded Communist, who has become a Russified oligarch using deceit, and is trying to help Harmony Center in the upcoming referendum."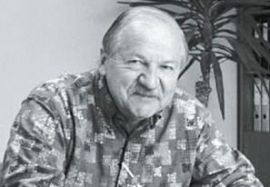 Aivars Slucis.
"Latvia's Russian-speakers and Harmony Center leader Nils Usakovs have made a huge mistake in organizing the petition for staging a referendum on granting the status of a state language to Russian. Now the referendum will take place, in which Latvians need to collect one million votes "against", informs LETA.

However, Berzins has given Harmony Center and Latvia's Russians a huge boost by recommending residents to not participate in the referendum, even though he knows very well that Moscow's propaganda machine will call these people, at the very least, indifferent to the cause," Slucis writes.

"Harmony Center and Berzins are also afraid of what will happen afterwards, as the referendum is not only about the Russian language, but about Russians themselves, and whether the Latvian people can still stand the Russians that have been living in their country for the past 70 years. In 1940, Latvians did not have the opportunity to vote in a referendum on letting Russians into the country. But on February 18, they will have such an opportunity," Slucis points out.

Slucis also urges that after the referendum "Saeima start implementing its 1996 decision on undoing the consequences of colonialism in Latvia". He believes that the disloyal Russians should be given assistance in repatriating back to Russia.

As reported, President Andris Berzins has previously announced that he will not take part in the upcoming referendum on granting the status of a state language to Russian.