International Internet Magazine. Baltic States news & analytics
Thursday, 19.04.2018, 20:02
Berzins: Latvia and Sweden enjoy excellent relations in politics and economy
BC, Riga, 26.03.2014.

Print version
The Latvia visit by His Majesty King of Sweden Carl XVI Gustaf and Her Majesty Queen Silvia will elevate the relations between both countries to new quality, believes President Andris Berzins, informs LETA.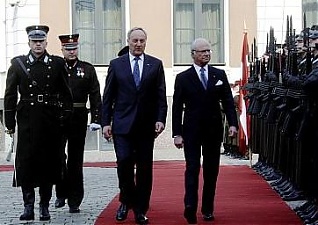 Andris Berzins and His Majesty King of Sweden Carl XVI Gustaf. Riga, 26.03.2014. Photo: president.lv
Following a meeting with the Swedish monarch, Berzins told reporters that Latvia and Sweden enjoy excellent relations in politics, economy and other areas. Both countries also have similar understanding of EU values and future development. "Latvians and Swedes have been in contact with each other for centuries, and both nations have always supported each other," said the president.
Berzins presented to Carl XVI Gustaf the Viesturs Order and Queen Silvia with the Cross of Recognition, as befits such visits. Other members of the Swedish delegation accompanying the Royal couple on the visit will also receive the respective decorations, LETA learned from the President's Press Chancery
During the meeting, Berzins and Carl XVI Gustaf emphasized the historically-close relations between both countries. The King and Queen first visited Latvia in 1992, shortly after the restoration of independence, and this visit was very important for Latvia as the country was undergoing its independent development. The Swedish monarch stressed that Latvia was going through a period of rapid growth and was Sweden's cooperation partner on many levels.
More than ever before are the countries at the Baltic Sea connected with each other, said the King. Sweden knows Latvia's history and the many tragic events therein, and it wishes to know Latvia even closer. Sweden also wants Latvia to develop as a country good for its residents, he added.
Speaking of the importance and potential of the economic cooperation between Latvia and Sweden, Berzins stressed that Latvian-Swedish trade continued to increase and that Sweden was Latvia's sixth largest trade partner with the total volume of trade at EUR 1.2 billion. Sweden is also the largest investor in Latvian economy – the total amount of Swedish investment in companies' share capital is EUR 1.7 billion. Berzins added he was very pleased to see that the Swedish delegation included a number of high-ranking Swedish businessmen, adding that Latvian businessmen had also shown surprisingly strong interest in a business forum that would be organized during the Swedish royal couple's visit to Latvia. More than 300 Latvian businessmen have applied for participation in the forum.
A key Latvia-Sweden cooperation project in higher education is the Riga Stockholm School of Economics. Several respected professionals have graduated from the school who currently work at high-level public institutions in Latvia, said the Swedish king.
Both officials also indicated the importance of cooperation between Riga and Umea, the European capitals of culture this year.
"I am very pleased that our guests have brought along an entire cultural program, titled "Swedish Royal Week". Latvian Academy of Music, the Art Academy of Latvia, as well as Latvian Culture Academy are in active cooperation with partners in Sweden. It needs to be said in this regard that 198 students from Sweden study at our universities and colleges this year, including 178 at the Riga Stradins University – which attests to quality of medical education available in Latvia," said Berzins.
During the meeting, the officials also discussed a number of international developments and Latvia's preparations for the European Union Council presidency – Eastern Partnership, development of Central Asia and Afghanistan, with Berzins noting that Latvian and Swedish soldiers had developed good military cooperation, as proved by the NATO mission in Afghanistan and Swedish troops' participation in the NATO exercises "SteadFast Jazz 2013" in Latvia.
Discussing the events in Ukraine, both sides agreed that a solution must be arrived at via diplomatic talks, stopping the violence and military threats.
Following the press briefing, Berzins and the Swedish King laid flowers at the Freedom Monument. Some 300 people observed the ceremony, some presenting the Swedish Royal couple with flowers and asking permission for having their pictures taken together with the honored guests.